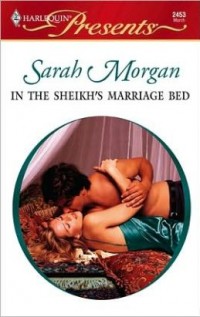 February 4, 2005

March 1, 2005
In The Sheikh's Marriage Bed
2005 Reviewers' Choice Award Nominee
She'll pay the sheikh's price…in the marriage bed!

Crown Prince Zakour-Al-Farisi is ruler of all he surveys, and the moment Emily Kingston steps into his Golden Palace, she too must do exactly as he commands!

Zakour believes Emily has been sent to seduce him and decides to turn the tables. His terms? Emily will repay her brother's debt in full — as his wife. But what will he do when he discovers that his beautiful bride-to-be is a virgin?
Buy in the UK
Buy in the US
Reviews
"Sarah Morgan's In the Sheikh's Marriage Bed (4) is a compelling read. The scenes are sensual, emotional and gripping. The romance is tender, and the hero is virile and ultra-alpha yet gentle." - 4 Stars, RT Book Reviews
Also published in
The Desert Sheikh's Marriage