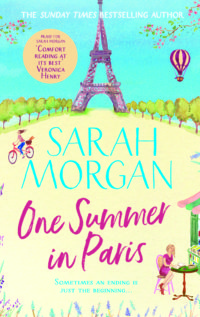 April 4, 2019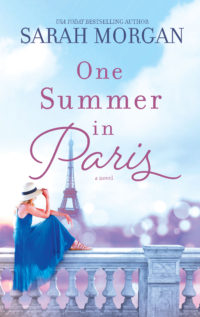 April 9, 2019
One Summer in Paris
One charming Left Bank bookshop, two unlikely friends, and a summer in Paris that will change their lives forever…
Grace can't believe it when her husband of twenty-five years announces he doesn't want to join her on their anniversary trip to Paris – instead, he wants a divorce. Reeling from the shock, Grace makes the bold decision to go on this holiday of a lifetime alone.
Audrey leaves behind heartache of her own when she arrives in Paris. A job in a bookshop is her ticket to freedom, but with no money, and no knowledge of the French language, her summer adventure seems doomed to fail. Until she meets Grace, and everything changes…
Living in neighbouring apartments above the bookshop, Grace and Audrey form an unlikely friendship. They came to Paris to find themselves, but finding each other might be the best thing that's ever happened to them.
Read an Excerpt
Buy in the UK
Buy in the US
Reviews
"Morgan is a masterful storyteller, and readers will be fully immersed in this realistic but magical summer in Paris. Packed full of love, loss, heartbreak, and hope, this may just be Morgan's best book yet. For fans of Jojo Moyes, Taylor Jenkins Reid, and Stacey Ballis." BOOKLIST
Excerpt
CHAPTER ONE
GRACE
Grace Porter woke on Valentine's Day, happily married and with no idea that that was about to change.
Downstairs in the kitchen she added slices of cheese to the bread she'd baked fresh the day before and put fruit and raw vegetables into lunch boxes. "Don't forget Dad and I are out tonight. Your dinner is in the fridge."
Her daughter Sophie was messaging a friend. "Mmm…"
"Sophie!"
"I know! No phones at the table—but this is urgent. Amy and I are writing a letter to the paper about that development they're going to build on the edge of town. Dad promised he'd publish it. Can you believe they want to close the dog shelter? Those dogs are going to die if someone doesn't do something, and that someone is me. There. Done." Sophie finally looked up. "Mom, I can make my own lunch."
"Would you include fresh fruit and veg?"
"Er—no?" Sophie gave a smile that didn't just light her up, it lit Grace up too.
"You need your five a day."
Her daughter was like sunshine. She made the world a brighter place. For years Grace had been braced for her to rebel, to take drugs, or roll in drunk after an illicit party with friends, but it had never happened and eventually she'd relaxed. It seemed that Sophie's genetic make-up favoured David's side of the family rather than hers. If Sophie had an addiction it was causes. She hated injustice, inequality, and anything she deemed unfair—particularly when it related to animals. She was the champion of all dogs, especially the underdog.
"I don't need all five in my lunchbox." Sophie finished her cereal. "Did you say something just now? Dinner?"
"Have you forgotten what day it is?" Grace closed the lunch boxes and put one next to Sophie. The other she slid into her own bag.
"Valentine's Day." Sophie slid off her chair and picked up her empty bowl. "The day it becomes public knowledge that nobody loves me."
"Dad and I love you."
"No offense, but you're not young, cool and athletic."
Grace took a mouthful of coffee. How much should she say? "It's still Sam?"
Sophie's smile faded as if someone had hit the dimmer switch. "He's seeing Callie. They walk round together holding hands. She keeps giving me these smug smiles. I've known Callie since I was three, so I don't understand why she's doing this. I mean date him, sure. That sucks, but it's life. But it's like she's trying to hurt me."
Grace felt an ache in her chest. As a mother, her role was to support from the sidelines. But it was like being forced to watch a really bad play without the consolation of knowing you could leave in the interval.
"I'm sorry, honey."
"Don't be." Sophie put her bowl in the dishwasher and then added the one her father had left on the side. "It would never have worked out. Sophie and Sam sounds pretty lame, don't you think?"
Her hurt slid into Grace and settled deep in her gut.
"You're going to college in a few months. After a month in California you won't even remember Sam exists. You have your whole life ahead of you, and all the time in the world to meet someone special."
"I'm going to study, graduate top of my class and go to law school where I can learn how to sue people who are assho—'
"Sophie!'
"Er…not very nice people." Sophie grinned, slung her backpack over one shoulder and stroked her long ponytail over the other. "Boys drive me insane. I don't want a relationship."
That will change, Grace thought.
"Thanks, Mom. And Happy Anniversary. Twenty-five years of not yelling at Dad when he leaves his socks on the floor and his dirty plate on top of the dishwasher. Major achievement."
"There are worse sins than leaving dirty plates around."
"Yeah, well, you two are a shining example of a perfect marriage. You give everyone hope."
"Your dad and I are lucky." Grace had grown up with inconsistency and insecurity. Twenty-five years of marriage had satisfied her need for order and stability.
"Even my friends think it's cool that you're still so in lurve. But don't take that as permission to hold hands at school events."
"That happened once."
"And my friends still talk about it. Are you seeing Mimi today?"
"This afternoon." Grace slid her laptop into her bag. "I made macarons, like the ones she used to buy in Paris. You know what a sweet tooth your great-grandmother has."
"Because she lived in Paris during the war and she had no food. She often talks about how she was sometimes too weak to dance. It's hard to imagine."
"That's probably why she talks to you about it. She doesn't want you to take things for granted." She opened the box she'd carefully packed that morning.
Sophie made a sound that was almost a purr as she saw the pastel macarons lined up in neat rows of rainbow perfection.
"Wow. I don't suppose I could…?"
She reached out and Grace closed the box.
"No. But I might have put a couple in your lunch box."
"You're the best, Mom."
Sophie kissed her cheek and Grace felt warmth flood through her.
"Do you need a favor or something?"
"Don't be cynical." Sophie grabbed her coat. "Not many people would teach French at an Assisted Living Center, that's all. I think you're amazing."
Grace felt like a fraud. She didn't do it out of any sense of charity, but because she liked the people. They were always so pleased to see her. They made her feel valued.
It was embarrassing to think she could still be needy at her age.
"Their French Club is the best part of my week. Today being Valentine's Day, I've allowed myself to be creative." She picked up the stack of menus she'd designed. "The staff are laying the tables in the restaurant with red and white tablecloths. We're eating French food, I'm playing music… Knowing your great-grandmother, there will be dancing. What do you think?"
"Ooh la-la, I think it sounds great." Sophie grinned. "Just remember that the average age of Mimi's friends is ninety. Don't give them all heart attacks."
"I'm pretty sure Robert has his eye on Mimi."
"Mimi is a minx. I hope I'm like her when I'm ninety. She has this wicked twinkle in her eye… It must have been fun having her living with you when you were growing up."
It had been lifesaving. And that, of course, was why Mimi had moved in.
It was a time she'd never discussed with her daughter. "She's one in a million. You'll be okay tonight?" She checked the kitchen was tidy. "There's casserole in the fridge. Or fresh soup. Whichever you don't eat we'll have tomorrow."
"I'm eighteen, Mom. You don't have to worry about me." Sophie glanced out the window as a car pulled up outside. "Karen is here. I need to run. Bye, Mom."
Telling Grace not to worry was like asking a fish not to swim.
Two minutes after Sophie had left, she slid on her coat, picked up her keys and walked to the car.
Turning the heating up, she focused on the drive.
Four mornings a week, Grace taught French and Spanish at the local middle school. She also tutored children who were struggling and occasionally gave lessons to adults keen to improve their language skills.
She took the same route she always took, seeing the same houses, the same trees, the same stores. Her view only changed when the seasons changed. Grace didn't mind. She savoured routine and predictability. She found comfort in knowing what was going to happen next.
Today the snow lay deep on the ground, coating roofs and gardens in thick slabs of white. In this little corner of Connecticut the snow was likely to linger for many weeks. Some people embraced it. Grace wasn't one of them. By March, winter felt like a guest who had outstayed her welcome. She longed for sunshine and summer dresses, bare legs and iced drinks.
She was still dreaming of summer when the phone rang.
It was David.
"Hi, Gracie." That voice of his still made her insides melt, even after so many years. Deep and gravelly, but smooth enough to soothe life's hurts.
"Hi, handsome. You had an early start today." And you left your breakfast plate on top of the dishwasher.
"Things are hotting up in the office."
David was editor of the local newspaper, the Woodbrook Post, and had been kept busy lately thanks to the astonishing success of the girls' tennis team, the formation of a county children's choir, and a robbery at the local gas station during which the only things stolen were a box of doughnuts and a bottle of rum. By the time the local police had located the man responsible the evidence had been consumed.
Whenever Grace read the paper it reminded her of all the reasons she lived in this small, quaint town with a population of only 2,498.
The headlines made good reading.
Black Labrador found roaming on Main Street!
Package stolen from mailbox!
The proposal to install a water slide in the local camp ground for the summer had attracted four letters of outrage to the editor. For David, that was a major controversy.
Unlike other journalists, whose sights might have been set on bigger targets, David had never shown a desire to work anywhere but this small town they'd both fallen in love with.
The way he saw it, he was the voice of the community. He alone had the power to decide what went in the paper. It helped that he was charming, and that no one was ever guarded around him. He often joked that all he needed to fill the entire newspaper was to spend an afternoon at a backyard barbecue listening to the gossip. He was friends with the police chief and the fire chief, which ensured that he was given all the major scoops.
Of course in Woodbrook, a place most people had never heard of, most of the "scoops" were small—and that suited Grace.
"Happy Valentine's and Happy Anniversary." She slowed as she approached an intersection. "I'm already looking forward to dinner tonight."
"Shall I book somewhere?"
Only a man would think it possible to get a table on Valentine's Day without forward-planning. "Already done, honey."
"Right. I should be home early. I'll fix something for Sophie to eat so you don't have to bother."
"I've handled that. The fridge is full of food. You can relax."
There was a pause. "You're Superwoman, Grace."
She glowed. "I love you."
Her family was the most important thing in the world to her.
"I'll drop by the store and pick out something for Stephen's birthday on my way home. He says he doesn't want a fuss, but I feel we should buy him something, don't you?"
"I do—which is why I bought him a gift when I was shopping last week." Grace waited for a gap in the traffic and turned in to the school. "You'll find it on the top of the wardrobe."
"You've already bought something?"
"I didn't want you having to think about it. Remember that great photo of Stephen with Beth and the kids?"
"The one I took at the Summer Fair?"
"Yours was a little blurred. In the end I used the one I took." She pulled in to a space and undid her seat belt. "I had a print made and bought a frame. It looks great."
"That's…thoughtful. I'll pick up some paper on the way home and wrap it."
"I've wrapped it. All you have to do is sign your name." She reached across and gathered her coat and bag. "I'm at school, so I'll call you later. You sound tired. Are you tired?"
"A little."
She paused, one leg out of the car. "You've been working long hours lately. You need to slow down. There's nothing for you to do at home, so maybe you should lie down and rest before we go out."
"I'm not geriatric, Grace."
There was a sharpness to his tone that was unusual.
"I wasn't suggesting you are. I was trying to spoil you, that's all."
"Right." The sharpness vanished. "Sorry. Didn't mean to snap. There's been a lot going on lately. I'll call a cab for tonight, so we can have a drink without worrying about driving."
"Cab is already booked for seven."
"Do you ever forget anything?"
"It's all down to lists—you know that. If I lose my lists, my life is over."
It occurred to her that if she died someone would be able to pick up her "To Do" lists and carry on with her life as if she'd never inhabited it.
What did that say about her? A life should be individual, surely? Would someone looking at the lists be able to learn anything about her? Would they know that she loved the smell of roses and indulged her love of French movies when no one was home?
"Is there anything you need me for?"
Grace gave a smile that her daughter would have said was very like Mimi's minxy look. "I can think of a few things… I plan on showing you later."
David ended the call and she walked into school, waving at a couple of parents who were delivering their precious cargo.
Twenty-five years. She'd been married for twenty-five years.
She felt a glow of pride.
Take that, universe.
She and David were a perfect team. They'd had their ups and downs, like any couple, but they'd handled everything together. Grace had become the person she wanted to be, and if a tiny voice occasionally reminded her that underneath she was someone quite different, she ignored it. She had the marriage she wanted. The life she wanted.
The day deserved a special celebration, and she'd made a reservation for dinner at Bistro Claude, the upmarket French restaurant in the next town. Claude himself was from Texas, but he'd seen a gap in the market, cultivated an accent and modeled his restaurant on something he'd once seen in a French movie.
Even Grace, a purist and Francophile, had to admit the place was charming. She would have loved to take Mimi there, but her grandmother no longer enjoyed eating out.
Bistro Claude was the perfect setting for tonight, because Grace had planned a big surprise. Organizing it had been a major undertaking, but she'd been careful to leave no clues or hints.
Fortunately David had worked long hours over the past couple of months, or it would have been impossible to keep her research a secret.
She pushed open the doors and headed into school.
The children in her class were at that age where anything to do with sex or romance was treated as either hilarious or awkward, so she was fairly sure Valentine's Day would evoke plenty of giggles.
She wasn't wrong.
"We've written you a poem, Miss, to celebrate your anniversary."
"A poem? Lucky me." Grace hoped they'd give her the PG version. "Who's going to read it?"
Darren clambered onto his chair and cleared his throat.
"Twenty-five years, that's a very long time. More than you get for a life of crime."
Grace wasn't sure whether to laugh or put her head in her hands.
By the time she headed back to the car park at lunchtime she felt exhausted, and relieved she only worked mornings. Fortunately the drive to the Assisted Living Center where her grandmother lived would give her time to decompress.
It was a scenic route that wound through woodland and sleepy villages. In the fall the road was busy, packed with tourists admiring the sunset colors of the foliage, but now the trees and the rolling hills were coated in snow. The road followed the curve of the river, which had a tendency to flood as the snow melted.
Grace drove past the Wildlife Sanctuary, turned right into the road that led to Rushing River Senior Living and parked the car.
When Mimi had first announced her decision to move here Grace had been horrified.
As well as having a love of dance and all things hedonistic, her grandmother was a celebrated photographer. She'd traveled the world with her camera at a time when it had been rare for a single woman to do such a thing. She was famous for her photographs of post-war Paris, and Grace had always marveled at how her grandmother could capture people's personal struggles in a single frame. Mimi's vivid, exuberant personality was at odds with her dark, atmospheric photos of streets drenched by rain, or couples clinging together in a desperate embrace. The photographs told a story that her grandmother rarely shared in words. Of hunger and deprivation. Of fear and loss.
The last thing Grace had anticipated was that her well-travelled, worldly grandmother would choose to move somewhere like Rushing River. She'd tried to persuade her otherwise. If Mimi had reached the age when she could no longer manage alone, then she should live with Grace and David.
Mimi had insisted that she enjoyed her independence far too much to live with other people—even her beloved granddaughter. She'd gone ahead and paid the money without giving Grace any say in it.
That had been five years ago, but it had only taken a couple of visits for Grace to understand why her grandmother had chosen the place.
It was a haven. On busy days, Grace fantasized about living there too. There was a fitness center, including a pool, a spa and salon facilities, which Mimi loved. But the best thing was the people. They were interesting, friendly and, thanks to excellent management, the place felt like a community.
Her grandmother lived in a two-bedroom garden suite, with views across the lawns down to the river. In the summer, with the doors and windows open, you could hear the sound of the water. Mimi had turned one of the bedrooms into a darkroom, where she still developed her own photographs. The other room, her bedroom, looked like a dancer's dressing room, complete with a mirrored wall and a barre which her grandmother used for stretches.
The front door opened before Grace had lifted her hand to the buzzer.
"What do you think? Je suis magnifique, non?" Her grandmother did a twirl and then immediately reached out to steady herself. "Oops!"
"Careful!' Grace grabbed her hand. "Maybe it's time to stop dancing. You might lose your balance."
"If I'm going to fall, I'd rather do it while I'm dancing. Unless I fall out of bed having sex. That would also be acceptable—although unlikely, unless the men around here get their act together."
Grace laughed and put her bags down. She loved the mischievous look in her grandmother's eyes. "Don't ever change."
"I'm too old to change—and why would I want to? Being yourself is the one thing every person should excel at." Mimi smoothed her dress. "So, what do you think?"
"Is that the dress you wore when you were in the ballet in Paris?"
She'd seen photos of that time. Her grandmother, impossibly delicate, standing en pointe with her hair swept up. According to Mimi half of Paris had been in love with her, and Grace had no trouble believing it.
"I didn't know you still had it."
"I don't. This is a copy. Mirabelle made it for me. She has such a talent. Of course I was younger then, and my legs weren't as scrawny as they are now, so she made it longer."
"I think you look incredible." Grace leaned down and kissed her grandmother's cheek. "I have everything ready for French Club. I need to go and help the staff set up, but I wanted to give you this first." She handed over the macaron box, which she'd tied with a beautiful bow. "I made them."
"A gift you make yourself is the best gift of all." Mimi slid her fingers over the silk ribbon. "I had a pair of ballet shoes with ribbon exactly this color." She opened the box with an enthusiasm that ninety years on the planet hadn't eradicated. "They look exactly like the ones I used to buy in Paris. They were there in the shop window like jewels. I remember a man once sneaking out of my apartment early in the morning to buy me a box for breakfast—we ate them in bed."
Grace loved hearing about her grandmother's colorful past. "What was his name?"
"I don't remember. I only remember the macarons."
"You're a wicked woman, Mimi." Grace took the box from her and closed it.
"Since when has it been wicked to enjoy oneself? And why are you closing the box? I was about to eat one."
"You'll have plenty to eat in French Club. There are more where these came from."
"I like to enjoy the moment." Mimi opened the box again and helped herself. She took a delicate bite and closed her eyes.
Grace wondered if she was thinking of Paris, or of the man who had brought her macarons in bed. She knew her grandmother had stories she hadn't shared, and that there were times she didn't like to think about. Grace understood that. There were times she didn't like to think about either.
"Good?"
"Excellent." Mimi opened her eyes and reached for her coat and a silk scarf. Today's choice was peacock-blue. "How is Sophie?"
"Enraged about the plans to close the animal shelter. She's writing letters and calling anyone who will pick up the phone."
"I admire a person who is prepared to stand up and fight for a cause they believe in. Even more so when that person is my great-granddaughter. You should be proud, Grace."
"I am proud—although I'm not sure the way she is has much to do with me. She has David's genes."
Mimi read her mind. "Relax. She has nothing of your mother in her." She tucked her arm into Grace's as they stepped out of the apartment onto the covered walkway that led to the main house. "When is Sophie coming to see me?"
"At the weekend."
"And David?" Mimi's expression softened. "He popped in yesterday and fixed the broken handle on my door. That man is perfect. He has time for everyone. And did I mention that he gets more handsome by the day? That smile."
"I know." She'd fallen in love with David's smile. "I'm lucky."
Mimi stopped walking. "No, honey. He's the one who is lucky. After everything you went through to have a family like this—well, I'm proud of you. You're the glue, Grace. And you're an excellent mother."
Her grandmother was her biggest supporter. Grace hugged her in full view of anyone who happened to be watching. It was only when she held her grandmother that she was aware of her frailty. It scared her. She couldn't imagine a life without Mimi.
"I love you."
"Of course you do. I'm the buttercream frosting on the stale cake that is life."
Grace let her go. "Twenty-five years today. Had you forgotten?"
"I have creaking bones and varicose veins, but my memory is fine. I know what day it is. Your anniversary! I am happy for you. Every woman should love deeply at least once in her lifetime."
"You didn't. Were you never tempted to get married? Not even when you discovered you were pregnant?"
Mimi flipped the scarf around her neck and slid her arm through Grace's. "I wasn't the marrying kind. You, however, always were. I hope you're wearing your sexiest underwear to celebrate."
"I refuse to discuss my underwear with you, but I can tell you that I've booked dinner. And that's when I'm giving him his gift."
"I'm envious. A whole month in Paris. Sunlight on cobbled streets, and the gardens… Paris has a special atmosphere—do you remember that? It slides under your skin and permeates the air you breathe…"
Mimi seemed to be talking to herself and Grace smiled.
"I remember—but I have only been once, and just for a short visit. You were born there. You lived there."
"I did. And I really did live. I filled every moment with joy."
Mimi was never so animated as when she talked about Paris.
"I remember one night we stripped off our clothes and—"
"Mimi!" Grace paused at the door to the dining room. "You're about to appear in public. Don't scandalize everyone. We don't want to shock them with your sinful stories."
"Boredom is a sin. You're never too old for a little excitement. I'm doing them a favor." Mimi snapped her fingers in the air. "Pierre! That's it." She looked at Grace, triumphant.
"Pierre?"
"The man who bought me the macarons. We'd made love all night."
Grace was intrigued. "Where did you meet him? What did he do for a living?"
"I met him when he came to watch me dance. I have no idea what he did for a living. We didn't talk. I wasn't interested in his prospects—just his stamina."
Grace shook her head and adjusted her grandmother's scarf. "You should go back."
"To Paris? I'm too old. Everything would be different. The people I loved—gone."
Her grandmother stared into the distance and then gave a shake of her head.
"Time to dance." She opened the door and sailed into the room like a prima ballerina making her entrance on stage.
They were greeted by a chorus of cheery voices and Grace unloaded her bag onto the table. She'd stopped to pick up baguettes from the bakery on Main Street. They weren't as crisp and perfect as the ones she'd eaten in France, but they were the closest thing she could find in rural Connecticut.
While the staff helped prepare the tables Grace selected the music.
"Edith Piaf!" Mimi glided gracefully to the center of the room and beckoned to Albert.
Several other people joined them and soon the room was filled with people swaying.
When they sat down to eat, they bombarded Grace with questions.
Did she have everything in place for David's surprise? How exactly was she going to tell him about the trip she had planned?
She'd shared her plans with them, knowing how much they enjoyed being part of a conspiracy.
It had been David's idea not to buy each other gifts for their anniversaries, but instead to treat themselves to experiences. He'd said he wanted to fill her memory bank with nice things to cancel out all the bad experiences of her childhood.
It was the most romantic thing anyone had ever said to her.
The previous year she'd booked a weekend at Niagara Falls. They'd had a good time, but Grace had been determined to go bigger and better this year.
The afternoon passed quickly, and she was clearing up when her friend Monica arrived to teach a yoga class.
Grace and Monica had met when pregnant and had been friends ever since. It was hard to believe that their helpless newborns were now turning eighteen years old.
Grace helped Monica set out her equipment in the exercise studio. Sun flooded the room, sending light bouncing across the wood floor. "How is Chrissie?"
"Anxious. Not sure what she'll do if she doesn't get her first choice of college. The waiting is driving us insane."
"Sophie is the same. They're not going to hear until next month. We'll all be suffering anxiety attacks by then."
Both girls were hoping for places at Ivy League colleges, and Grace and Monica knew there would be major disappointment if they didn't get in.
"Chrissie wants Brown because she loves their program, but I want it because it's close." Monica removed her sweatshirt, revealing perfectly toned arms. "I want to be able to visit sometimes." She sent Grace a guilty glance. "Sorry. That was tactless."
"No! We've always been able to say anything to each other. I never want that to change."
She would have loved her daughter to go to college on the east coast too, but Sophie was desperate for Stanford and excited about going to California. Grace wouldn't have wanted to stop her, or try and persuade her to pick a college closer to home. She was proud that Sophie had the confidence to fly far from the nest.
"Do you think about it a lot? What life will be like when she leaves?" Monica dug out the microphone she used to teach her class. "It's the little things I'll miss, like sitting in the kitchen while she tells me about her day. Todd is dreading her leaving. How's David taking it?"
They'd barely discussed it. Was that her fault? Sophie's leaving was inevitable, but Grace didn't want to spoil the last few months of her living at home by talking about it all the time. She'd hidden her feelings of anxiety in case she somehow transmitted them to her daughter. She didn't want to do anything to dim Sophie's excitement. She and David were not Sophie's responsibility.
She'd stuck to that resolution—even with friends. "It will be a change, of course, but we're both looking forward to having some time together."
Long summer days stretching ahead, just her and David… No Sophie bouncing into the kitchen and raiding the fridge. No clothes strewn around the house and open books on the furniture. No letters of outrage spread across the kitchen counter ready to be mailed.
When Sophie left there would be a big gaping hole in her life. There were moments when it scared her to think about it, but she knew it was up to her and David to fill it.
"You're both so well adjusted." Monica clipped the microphone to her top. "When Chrissie first raised the possibility of going to Europe with Sophie this summer I thought Todd was going to explode. I keep telling him she's not a child anymore and she wants to be with her friends. But I'm worrying a little, too. Do you think we should have encouraged them to do something less adventurous?"
"I was the same age when I first went to Paris. It was an unforgettable experience."
Memories flashed through her head. Rain-soaked Paris streets, sunshine filtering through the trees in the Jardins des Tuileries, her first proper kiss in the moonlight with the River Seine sparkling behind her.
And then the phone call that had changed everything.
How long ago that seemed now. A different life. Would she even recognize the girl she'd been then if she met her in the street?
"But they're doing Rome and Florence too." Monica wasn't reassured. "I've heard bad things about Florence. Donna's daughter had her purse stolen, and she said they didn't dare go out unless there were two of them—even in the day. They were groped all the time."
Grace dragged herself out of the past. "They're sensible. If they do get into trouble—which they won't—they can call us. David and I will be in Paris for a month."
It sounded exotic, and suddenly it felt as if a door had opened just a chink. Part of her would always ache for those days when her daughter had been safely nestled in the protective cocoon of the family, but there were plenty of things to be excited about in the future.
Possibilities stretched before her.
David's parents had passed away early in their marriage and he had no other family. He'd often said that Grace and Sophie were his whole world, and Grace was happy with that because she felt the same way. And she had Mimi too. She smiled. Her buttercream frosting.
The idea of a month in Europe, when every day would be completely their own, left her feeling almost light-headed. They'd lounge in bed, enjoy long breakfasts on the balcony of the hotel, do some sightseeing. They'd have the time and energy for sex, and wouldn't have to worry that Sophie might disturb them.
She'd miss Sophie, but the more she thought about it the more excited she was about spending more time with David.
She raised the subject later, when she and David were at dinner.
"How do you feel about Sophie living so far away? Do you think about it?"
The restaurant was full, and they were surrounded by the low hum of conversation, the clink of glass, the occasional sound of laughter. Candles flickered on tables and silverware gleamed.
"We don't know where she's going yet." He cut into his grilled fish. "She might not get in."
"She will. She's smart. And she works hard. Our baby is grown up."
From behind them there was a burst of applause. Grace turned her head. A man was on one knee behind them, holding out a ring to a weeping woman. Grace clapped too, and then glanced back at David. She'd expected him to wink at her, or maybe roll his eyes at the clichéd public display, but David wasn't smiling. He was staring at the couple with an expression Grace couldn't quite interpret.
"It's going to be just the two of us," he said. He watched as the man slid a ring onto the woman's finger. "Do you ever think about that?"
Grace shifted in her seat so that her back was to the couple. She'd ordered the ravioli, and it was delicious. "Of course. I've also been thinking of all the things we can do. I'm looking forward to it, aren't you?"
She was so caught up in her own burst of positivity that it took a moment for her to realize he hadn't answered her. He was still staring past her to the couple.
"David?"
He put his fork down. "I feel old, Grace. As if the best days of my life are behind me."
"What? David, that's insane. You're in your prime! If it helps, Mimi thinks you're sexier than you've ever been."
She thought so, too. When you grew up alongside someone you didn't always see them the way a stranger did, but lately she'd found herself looking at the width of David's shoulders or the shadow on his jaw and thinking nice. Age had given him a gravitas that she found irresistible.
At the mention of Mimi, the tension left his features. His eyes crinkled at the corners—a precursor of the smile she loved so much. "You've been discussing my sex appeal with your grandmother?"
"You know what she's like. I swear if I weren't already married to you, she'd marry you. No, actually…' She frowned. "She'd probably just seduce you. Marriage is too establishment for Mimi. She wouldn't want to be tied down. She'd sleep with you, and then discard you and not even remember your name. Paris is paved with the fragments of all the hearts Mimi broke there."
And soon they'd be going there. Maybe this was a good time to tell him.
He fiddled with his knife. "I still remember the day Sophie was born. I can't believe she's leaving home."
"It's natural to feel that way, but we should be proud. We've raised a smart, kind, independent adult. That was our job as parents. She thinks for herself, and now she's going to live by herself. It's the way things are supposed to be."
The fact that it hadn't been that way for her had made her all the more determined to make it happen for her daughter.
David put his knife down. "A milestone like this really makes you take a good look at your life. I've been thinking about us, Grace."
She nodded, pleased. "I've been thinking about us too—but you're not allowed to be sad. Instead we're going to celebrate our fresh start. And our summer won't be empty, because I have the perfect way to fill it. Happy Anniversary, David."
She handed over the parcel she'd kept hidden under her chair. The paper was covered in tiny pictures of Paris landmarks. The Eiffel Tower. The Arc du Triomphe. The Louvre. It had taken two hours of searching to find it on the internet.
"What's this?"
"It's my anniversary surprise. We always take a trip and make a new memory. This is a special one."
"A trip?" He removed the paper slowly, as if he wasn't sure he wanted to know what was underneath.
The couple at the next table glanced at them, intrigued. She knew them vaguely—in the way everyone knew everyone in a small town like this one. Faces were always familiar. Someone's cousin. Someone's aunt. Someone's husband.
David pulled out the street map of Paris she'd also ordered on the internet. "We're going to Paris?"
"Yes!" She was ridiculously pleased with herself. This trip was going to give them more than memories. It was their fresh start. "It's all booked. We're going for a month, right through July. You're going to love it, David."
"A month? A month?"
"If you're worried about taking the time off work, don't be. I already spoke to Stephen, and he thinks it's a great idea. You've been working hard, and July is a quiet month, and—"
"Wait. You spoke to my boss?" He rubbed his jaw, as if he'd suffered a physical blow. Streaks of color appeared on his cheekbones and she couldn't work out if it was anger or embarrassment.
"I needed to know you could take the time off." Perhaps she shouldn't have done that—although Stephen had been charming about it.
"Grace, you don't have to handle every detail of my life. Believe it or not, I can do it myself."
"I thought you'd be thrilled."
Wasn't he going to look at the other items in the box? There was a ticket for the Métro, the Paris subway, a postcard of the Eiffel Tower and a glossy brochure for the hotel she'd booked.
"This trip is for us. We'll have a month together in the summer, exploring the city. We can eat dinner outside in pavement cafés, watch the world go by and decide what we want our future to look like. Just the two of us."
She was determined to view this new phase of life as an adventure and a celebration, not as a time for regrets and nostalgia.
"You should have talked to me about this, Grace."
"I wanted it to be a surprise. I thought you'd be excited."
He didn't look excited. He looked sick. She started to feel sick too. The evening wasn't going the way she'd imagined it.
He closed the box. "You've booked everything already? Yes, of course you have. You're you."
"What's that supposed to mean?" Was she supposed to apologize for something that was one of her best qualities? Being organized was a good thing. She'd grown up with the opposite and she knew how bad that was.
"You do everything—even though I'm capable of doing things for myself. You don't have to buy my boss's gift, Grace. I can handle it."
"I know you can handle it, but I'm happy to do it so that you don't have to."
"You organize every single small detail of our lives."
"So nothing gets forgotten."
"I understand why that is important to you. Really, I do."
There was gentleness in his tone and sympathy in his eyes. And knowledge. It was like walking into a crowded room and discovering you'd forgotten to button your shirt.
"We don't need to talk about bad stuff on a night like tonight."
"Maybe we do. Maybe we should have talked about it a lot more than we have."
"It's our anniversary. This is a celebration. You're worried I'm doing too much? It's fine, David. I like to do it. It's not a problem."
She reached across the table but he moved his hand away.
"It's a problem for me, Grace."
"Why? You're busy, and I love spoiling you."
"You make me feel…" He rubbed his jaw. "Incapable. Sometimes I wonder if you even need me."
Her insides swooped. She felt as if she'd stepped off a cliff. "How can you say that? You know it's not true."
"Do I? You plan every detail of our lives. You are the most capable, independent woman I know. What exactly do I contribute to this marriage?"
At any other time she would have said great sex, and they both would have collapsed with laughter, but tonight David wasn't laughing and she didn't feel like laughing either.
The people at the table closest to them were staring.
Grace didn't care.
"You contribute plenty! David—"
"We have to talk, Grace." He pushed his plate to one side, his meal only half eaten. "I wasn't going to say this tonight, but—"
"But what? What do you want to talk about?" Unease mushroomed inside her. He didn't sound like himself. David was always sure, confident and dependable. "Why do you keep rubbing your jaw?"
"Because it aches."
"You should see the dentist. You could have an abscess or something. I'll make you an appointment in the morning—" She stopped in mid-sentence. "Or you can make it yourself if you prefer."
"I want a divorce, Grace."
There was a strange ringing in her ears. The background music and the clatter from the kitchen had distorted his words. He couldn't possibly have just said what she'd thought he said.
"Excuse me?"
"A divorce." He tugged at the collar of his shirt as if it was strangling him. "Saying those words makes me feel sick. I never wanted to hurt you, Gracie."
She hadn't misheard him.
"Is this because I bought Stephen a gift?"
"No." He muttered something and tugged at his collar again. "I shouldn't be doing this now. I should have—'
"Is it because of Sophie leaving? I know it's unsettling…"
Panic gripped her heart. Squeezed. Squeezed some more. Her lungs. She couldn't breathe. She was going to pass out in her ravioli. She imagined the headline in the following day's edition of the Woodbrook Post.
Death by pasta!
A local woman was asphyxiated when she fell face first into her meal.
"It's not because of Sophie. It's us. Things haven't been right for a while."
There was something in David's eyes she'd never seen before.
Pity. Yes, there was sadness, and also guilt, but it was the pity that tore her to shreds.
This was David. Her David—who had cried on their wedding day because he loved her so much, who had held her while their daughter fought her way into the world and been there for Grace through thick and thin. David, her best friend and the only person who truly knew her.
He would never want to see her hurt, let alone hurt her himself. Knowing that, she felt her panic turn to fear. He didn't want to hurt her but he was doing it anyway—which meant this was serious. He'd decided he'd rather hurt her than stay with her.
"I don't understand." Surely if something hadn't been right, she'd have known? She and David had been a team for as long as she could remember. Without him she would have fallen apart all those years ago. "What hasn't been right, David?"
"Our lives have become…I don't know. Boring." His forehead was shiny with sweat. "Predictable. I go to work in the same place, see the same people, and I come home every day to—"
"To me." It was all too easy to finish his sentence. "So what you're really saying is that I'm predictable. I'm boring." Her hands were shaking and she clasped them in her lap to try and control it.
"None of this is your fault, Grace. It's all me."
The fact that he was shouldering the blame didn't help. "How can it be all you? I'm the one you're married to and you're unhappy—which means I'm doing something wrong." And the problem was that she loved the fact that their life was predictable. "I grew up with unpredictability, David. Believe me, it's overrated."
"I know what you grew up with."
Of course he did.
Was she boring? God, was it true?
It was true that she was a little obsessed about them being good parents to Sophie, but that was important to David too.
He undid another button on his shirt and gestured to the waiter to bring more water. "Why is it so hot in here? I don't feel too good… I can't remember what I was saying…"
She didn't feel too good, either. "You were telling me you want a divorce."
She hadn't believed that word would ever come up in a conversation between her and David, and she wished it hadn't come up now, in a public place. At least two of the people in the bistro had children in her class—which was unfortunate, given the nature of this conversation.
Mommy says you're getting divorced Mrs. Parker, is that right?
"Grace—"
David took a sip of water and she noticed there was a tremor in his hand. He was looking pale and ill.
She was pretty sure that if she looked in the mirror she'd look the same.
What about Sophie? She'd be devastated. What if she was too upset to go away for the summer? It was terrible, awful timing.
"We can talk to someone, if you think that would help. Whatever it is that needs working on, we'll work on it."
"Fixing our marriage isn't something you can add to your 'To Do' list, Grace."
She felt color flood into her cheeks, because mentally she'd been doing exactly that. "We've been married for twenty-five years. There is nothing—nothing—we can't fix."
"I'm having an affair."
The words were like a solid punch to her gut.
"No!" Her voice cracked. And that was how she felt. Cracked. Broken. As if she were a piece of fine china he'd flung against the cabinet. "Tell me that isn't true."
She was going to be sick. Right here in a pretty little French bistro, in front of an audience of around fifty people, she was going to be sick.
She could imagine how the kids in her class would react to that.
Did you barf, Miss?
Yes, Connor. I barfed, but it had nothing to do with the ravioli.
David looked worse than she felt. "I didn't plan it, Grace."
"Is that supposed to make me feel better?"
She had a thousand questions.
Who is this woman? Do I know her? How long has it been going on?
In the end she asked only one. "Do you love her?"
David rubbed his fingers over his forehead. "Yes."
She almost doubled over. Not just sex, then, but feelings. Strong feelings.
It was the ultimate betrayal.
She stood, although her legs didn't seem to agree with the decision. They felt like water. But she didn't want the local community to witness any more of this conversation—not for his sake but for hers and Sophie's. How much had people heard already? Was she going to be stopped in the supermarket?
I hear David doesn't love you? That must be tough.
"Let's go."
"Grace, wait!' David fumbled for some notes and dropped them on the table without counting them.
Grace was already halfway to the door, the box filled with her Paris plans tucked under her arm. She had no idea why it seemed so important to take it with her. The happy summer she'd spent months planning wasn't going to happen. Instead they'd spend the time dividing up property and belongings and consulting lawyers.
The reality of it swamped her.
David was the love of her life. He was the solid foundation upon which she'd constructed her wonderfully predictable world. Without him the whole thing would crumble.
Her heart was pounding.
She felt as if she was having an out-of-body experience. Her mind was elsewhere but her body was still here in this bistro, going through the motions. Smiling, leaving—Thank you, yes, the meal was delicious—as if her life hadn't just been torn apart.
David pressed his hand to his chest again and shook his head when the waiter offered him his coat. "Grace, I'm not feeling too good—"
Seriously?
"Oddly enough, I'm not feeling too good either."
Did he expect her to nod, smile and give him sympathy? Sign the divorce papers without protest?
"I feel as if— I can't—"
David staggered and then collapsed, sending a trolley and a coat stand flying. The weight of him hit the floor with a sickening thud.
Grace couldn't move.
Was this what shock did to you? Did it freeze you into a useless object?
She was vaguely aware that a few diners were standing up, the better to see what was going on. Waiters had turned to look at her, panic and expectation in their eyes.
David was on the floor, sweat covering his brow and his eyes bulging.
He clawed at the collar of his shirt and pressed his hand to his chest.
His eyes met hers and she saw the terror there.
Help me…help me.
"Call the emergency services." She was fascinated by how normal she sounded.
She was trained in first aid, but her body and mind were paralyzed by the knowledge that her husband of twenty-five years didn't love her anymore.
He'd been unfaithful to her. He'd had sex with another woman. Probably multiple times. How long had it been going on? Where? In their bed or somewhere else?
David's throat made a rattling sound and Grace examined her response with a mixture of awe and curiosity. Was she seriously considering not resuscitating him?
My name is Grace Porter and I murdered my husband.
No, not murder. Murder was premeditated. This was more…opportunistic.
If he died she wouldn't even know who to call to break the news. She'd have to look around her at the funeral and try and identify the woman who was crying as hard as she was.
Dimly registering the clattering and panic around her, Grace stared down at him for what felt like minutes but was in fact no more than a few seconds.
This was the man she loved. They'd had a child together. She'd assumed they'd grow old together.
If he was bored with his life why hadn't he said something?
The injustice of it almost strangled her sense of duty. He hadn't even given her a chance to fix things. He'd made the decision for both of them. How could he do that?
As sirens sounded in the distance David made a choking sound and then his eyes closed.
Grace woke from her inertia.
She couldn't let another person die even though it felt as if that person had stabbed her through the heart.
She knelt down beside him, felt for a pulse, checked his breathing and then put her hands on his chest and started compressions.
One, two, three—Damn you, David…damn you, David…
She counted as she pumped and then pinched his nose and breathed air into his mouth, trying not to think about those lips kissing another woman.
The first thing she was going to do when she got back home was change the sheets.
The sound of sirens grew louder. She willed them to hurry. She didn't want him to die. That would be the easy way out for him, and Grace didn't want to give him the easy way out.
She wanted answers.