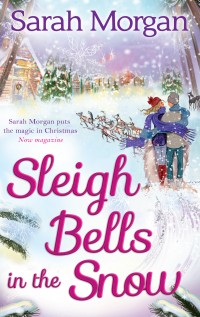 October 29, 2013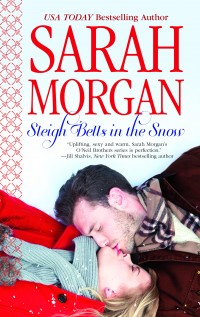 October 29, 2013
Sleigh Bells in the Snow
O'Neil Brothers Book #1
Once upon a time, Christmas was Kayla Green's favorite time of year. Now all the workaholic wants for Christmas is for it to be over—as fast as possible! So when duty calls her to snowy Vermont to close a deal with a new client, Kayla is grateful for an excuse to avoid the holidays for another year.
Jackson O'Neil left a thriving business behind to return home and salvage his family's resort—it's in his blood, and he can't let it fail. Now that he's got marketing whiz Kayla Green working with him to put Snow Crystal on the map, success is on the horizon. The fact they strike enough sparks off each other to power all the Christmas lights in Vermont is just an added bonus.
Kayla might be an expert at her job, but she's out of her depth with Jackson—he makes her crave the happy-ever-after she once dreamed of, and it's terrifying. As the snowflakes continue to swirl, will the woman who doesn't believe in the magic of Christmas finally fall under its spell?
Read an Excerpt
Buy in the UK
Buy in the US
Reviews
" As the two struggle with their strong emotions, Morgan masterfully introduces a cast of endearing supporting characters. This touching Christmas tale will draw tears of sorrow and joy, remaining a reader favorite for years to come." Starred Review Publishers Weekly
"'Morgan's foray into full-length romance is a holiday hit. Her visual narrative epitomizes rustic Vermont in full winter finery while showcasing her witty humor and inherent understanding of the human condition. Her characters are riotously meddling and endearing, and watching her relationship-phobic Brit transplant heroine and confident hometown hero ineffectively battle fate, the elements and their feelings will delight the reader." 4.5 Stars RT Book Reviews
"At its heart, this is a Christmas romance, and no one does the double-edged sword of the holidays like Sarah Morgan. She is able to capture the warmth and happiness, but she also remembers those for whom the season is bittersweet…..this story combines all the things I love about contemporaries, small-town romances, and holiday stories.." Grade A Dear Author
Trailer
Excerpt
CHAPTER ONE
Kayla Green cranked up the volume on her favorite playlist and blocked out the sound of festive music and laughter wafting under her closed office door.
Was she the only person who hated this time of year?
Surely there had to be someone out there who felt the way she did?
Someone who didn't expect Christmas to be merry or bright?
Someone who knew mistletoe was poisonous?
She watched gloomily as soft snowflakes drifted lazily past the floor-to-ceiling glass windows that made up two sides of her spacious corner office. She hadn't been dreaming of a white Christmas but it seemed she was getting one anyway.
Far below, the streets of Manhattan were jammed with tourists keen to enjoy the festive sights of New York in the holiday season. A giant spruce twinkled in front of the Rockefeller Centre, and the Hudson River glinted in the distance, a ribbon of silvery-gray shimmering in the winter light.
Turning her back on the snow, the tree and the glittering skyscrapers of Midtown, Kayla focused on her computer screen.
A moment later the door opened and Tony, her opposite number in Entertainment and Sports, appeared carrying two glasses of champagne.
She unhooked her headphones. "Who the hell is picking the music out there?"
"You don't like the music?" The top button of his shirt was undone and the glitter in his eyes suggested this wasn't his first glass of champagne. "Is that why you're hiding in your office?"
"I'm searching for inner peace but I'd settle for outer peace so if you could close the door on your way out, that would be perfect."
"Come on, Kayla. We're celebrating our best year ever. It's a British tradition to get drunk, sing terrible Karaoke and flirt with your colleagues."
"Who told you that?"
"I watched Bridget Jones's Diary."
"Right." The music made her head throb. It was always the same at this time of year. The tight panicky feeling in her stomach. The ache in her chest that didn't ease until December 26th. "Tony, did you want something? Because I'd like to keep working."
"It's our office party. You cannot work late tonight."
As far as she was concerned it was the perfect night to work late.
"Have you seen A Christmas Carol? Or read the book?"
A glass of champagne appeared on the desk in front of her. "I'm guessing you're not Tiny Tim in this scenario, so that makes you either Scrooge or one of the ghosts."
"I'm Scrooge, but without the tasteless nightwear." Ignoring the champagne, Kayla glanced through the doorway. "Is Melinda out there?"
"Last seen charming the CEO of Adventure Travel who has been looking for you all evening so he can thank you personally for the incredible year their company has enjoyed. Bookings are up two hundred percent since you took over their account. Not only that, you got his picture on the cover of TIME Magazine." He raised his glass and his mouth twisted into a smile. "Until you arrived in New York, I was the golden boy. Brett used to give me tips on how to be the one on top. I was all set to be the youngest vice president this firm has ever appointed."
Alarm bells rang in her head. "Tony—"
"Now it's likely that accolade will go to you."
"You're still the golden boy. We work in separate divisions. Could we talk about this tomorrow?" Kayla delved into her bag for a report, wishing she could push herself inside and snap it shut until January. "I'm really busy."
"Too busy to nurse my ego a little bit?"
She eyed the champagne. "I've always believed people should be responsible for their own egos."
He gave a low laugh. "Coming from anyone else I'd assume there was innuendo in there, but you don't do innuendo, do you? You don't have time for it. Just like you don't have time for parties or dinner or drinks on the way home after work. You don't have time for anything except work. For Kayla Green, Associate Vice President of Tourism and Hospitality, it's all about the next piece of business. Do you realize there's a bet going in the office as to whether you sleep with your phone?"
"Of course I sleep with my phone. Don't you?"
"No. Sometimes I sleep with a human, Kayla. A hot, naked woman. Sometimes I forget about work and indulge in a night of really incredible sex." His eyes were on hers, his message unmistakable and Kayla wished she'd locked her office door.
"Tony—"
"I'm probably about to make a giant fool of myself, but—"
"Please don't." Deciding she might need both hands, Kayla gave up looking for the file. "Go back to the party."
"You are the sexiest woman I've ever met."
Oh shit.
"Tony—"
"When you transferred here from London straight into the AVP role, I admit I was ready to hate you, but you charmed us all with your cute British ways and you charmed Brett with your killer business instinct." He leaned forward. "And you charmed me."
Kayla eyed the glass in his hand. "How many of those have you had?"
"The other day I was watching you in the boardroom presenting to your client. You never stand still."
"I think better when I walk around."
"Yeah, you walk around in that tight little pencil skirt that shows off your ass and those skyscraper heels that show off miles of leg, and all the time you were walking I was thinking 'Kayla Green has the sharpest mind in the business, but she also has a great pair of legs—'"
"Tony—"
"—and not only does she have a great pair of legs, she also amazing green eyes that can kill a man from a thousand paces.'"
She stared hard at him and then shook her head. "Nope. Not working. You're still alive, so that's something else you're wrong about. Now go back to the party."
"Let's get out of here, Green. My place. Just you, me and my super big bed."
"Tony—" She tried to inject just the right tone into her voice. Firm, professional and absolutely not interested. "I understand how much courage it took for you to be honest about your feelings, and I'm going to be equally candid." Well, not quite, but as close to candid as she ever came. "Quite apart from the fact I would never get personal with a colleague because it would be unprofessional, I'm totally rubbish at relationships."
"You couldn't be rubbish at anything. I heard Brett telling a client this week that you're a superstar." An edge of bitterness crept into his voice and she sighed.
"Is that what this is about? Competition? Because honestly, when Brett was giving you tips on how to be on top, I don't think he meant you to take it quite so literally."
"Hot, dirty sex, Kayla, and just for tonight." He raised his glass. "Tomorrow doesn't exist."
As far as she was concerned tomorrow couldn't come soon enough. "Good night, Tony."
"I would make you forget your emails."
"No man has ever made me forget my emails." Contemplating that depressing fact did nothing to improve her mood. "You are drunk and you are going to regret this in the morning."
He sat down on her desk, flattening a stack of invoices awaiting her signature. "I thought I worked hard and then I met you. Kayla Green, public relations genius who never puts a foot wrong."
She tugged at the invoices. "My foot will be in your butt if you don't get off my invoices."
"Butt? I thought you British called it an arse."
"Butt, arse—call it whatever you like, just get it off my desk. Now go home before you say something you shouldn't to someone important." About to stand up and eject him physically, she was relieved when her office door opened and Stacy, her PA, walked in.
Her gaze fixed on the empty glass in Tony's hand. "Ah, Tony—Brett is looking for you. New business opportunity. He says you're the man to handle it."
"Really? In that case—" Tony scooped up Kayla's untouched glass and strolled toward the door, "nothing stands in the way of business, does it? Certainly not pleasure."
Stacy watched him go, eyebrows raised. "What's got into him?"
"Two bottles of champagne got into him." Kayla dropped her head into her hands and stared blankly at the screen. "Was Brett really looking for him?"
"No, but you looked as if you were about to punch him, and I didn't want you to spend Christmas in custody. I've heard the food is terrible."
"You are one in a million and you're in line for a fat bonus."
"You already gave me a fat bonus. I treated myself to this top." Stacy twirled like a ballerina and black sequins gleamed under the lights. "What do you think?"
"Love it. Just don't stand too near Tentacle Tony."
"I think he's cute." Stacy blushed. "Sorry. Too much information."
"You think he's hot?" Kayla stared at the door where Tony had exited a few moments earlier and wondered what was wrong with her. "Seriously?"
"Everyone does. Everyone except you, obviously, but that's because you work too hard to notice. Why don't you come and join the party?"
"Everyone will be chatting about the holidays. I'm fine talking about work but I'm useless with kids, pets and grandmas."
"Talking of work, we have a potential new business lead. The guy is coming in tomorrow to brief us. Brett wants you in on that meeting."
Relieved the topic had shifted, Kayla perked up. "What guy?"
"Jackson O'Neil."
"Jackson O'Neil." She filed through her brain. "CEO of Snowdrift Leisure. They own a handful of luxury hotels specializing in winter sports. Mostly European based. Zermatt, Klosters, Chamonix. Impressive track record. Very successful. What about him?"
Stacy gaped at her. "How do you know all this stuff?"
"It's what I do when other people have a social life." Kayla typed "Jackson O'Neil" into the search engine. "Do they want us to work with them? I can talk to someone in the London office."
"It isn't the European business. And it isn't Snowdrift Leisure. He took a backseat in the company eighteen months ago so he could move back to the U.S. and focus on the family business."
"Really? How did I miss that?" Kayla looked at the photographs that came up on her screen. Jackson O'Neil was at least two decades younger than she'd imagined him to be. Instead of the usual corporate head and shoulders shot, there was a photograph of him skiing down what looked like a vertical slope. Her head spun as she looked at the gradient. "Is that Photoshop?"
Stacy peered over her shoulder and made an appreciative sound. "That man is seriously hot. I bet he drinks vodka martinis, shaken not stirred. It's not Photoshop. All three O'Neil brothers are skiers. Tyler O'Neil was in the U.S. Ski team until he injured himself. They're always flinging themselves off some cliff or other."
"So I'd probably better not mention I feel dizzy at the top of the Empire State Building." Kayla clicked off the picture. "Snowdrift Leisure is a fast-growing, successful company. Why isn't he focusing on that?"
"Family. The O'Neil family owns the Snow Crystal Resort and Spa in Vermont."
Family. The most destructive force known to man. "Never heard of it."
"I guess that's why he's contacted us for help."
"If he'd wanted to run the family business, why didn't he do that straight off instead of setting up his own company?" She clicked through the Snow Crystal website, looking at images. A large Alpine-style hotel and log cabins nestling in a forest. A couple, smiling adoringly in the back of a horse-drawn sleigh. Laughing families skating on a frozen pond. She quickly returned to the images of the cabins. "Maybe he's a guy who prefers a challenge."
"No doubt he'll tell you why when you meet. He asked for you. He saw what you did for Adventure Travel."
Kayla stared at the log cabins, and thought how peaceful they looked. "Are they putting the business out to pitch?"
"Brett thinks if you can impress Jackson O'Neil tomorrow, the business is ours."
"Then we'd better make sure we impress him."
"I'm sure you will." Stacy hesitated. "Have you ever skied?"
"Not exactly. I mean, I've never actually worn a pair of skis as such, but I skidded on the snow outside Bloomingdales last week. I felt as if my gut was going to come up through my mouth. Skiing must give you a similar feeling."
Stacy laughed. "My parents took me to Vermont when I was little. All I remember was ice. Even the trees were frozen."
"That's perfect because I love ice."
"You do?"
"Absolutely. Ideally I prefer it crushed in a margarita or carved into a swan as a centerpiece on a buffet table, but I can go with it under my feet if I have to. I'll be fine, Stacy. I'm helping them promote the company, not going on holiday there. When I worked on that African Safari account, did I have to hug a lion? No, I did not." Kayla felt the familiar buzz that always came when facing a new business opportunity. Her fears of the dreaded Christmas period were soothed by the knowledge she now had a legitimate reason to bury herself in work. She'd get through it, as she always did, and no one would be any the wiser. "Be an angel and dig up as much information as you can on Snow Crystal and the O'Neil family, particularly Jackson. I want to know why he took a backseat in his highly successful business to return home and run a place I can't even find on a map."
"I'll have it for you first thing tomorrow." Brisk and efficient, Stacy made a note in her book. "Maybe you should take a break, Kayla. You're forgetting it's Christmas!"
"I'm not forgetting."
She'd been trying to forget for a decade and a half. There was no forgetting.
Whenever she left her apartment or her office she walked with her head down, avoiding glimpses of glittering window displays and twinkly lights, but nothing helped.
Stacy tidied the stack of invoices. "Are you sure you won't change your mind and join our team trip to see Santa?"
It felt as if someone were sawing through her stomach.
Dragging open her drawer, Kayla pulled out indigestion tablets and swallowed two. She wondered whether taking the lot would put her out until after Christmas. "Can't, sorry, but I appreciate the invitation."
"There will be Christmas trees, elves—"
"Oh God, poor you."
"Why poor me? I love Christmas—" Stacy shot her a puzzled look, "don't you?"
"I adore Christmas. I'm totally gutted I can't make it. I meant poor me, not poor you." The effort of smiling was making her jaw ache. "Think of me while you're mingling with elves."
"Maybe you should come anyway and talk to Santa. You can give him your Christmas list. Dear Santa, please give me the Snow Crystal account together with a massive budget, and, while you're at it, I'll have Jackson O'Neil naked. Hold the gift wrap."
The only thing she wanted for Christmas was for it to be over as fast as possible.
Memories hit her with a thump, and Kayla stood up abruptly and paced to the window. All around her were reminders of Christmas, so she paced back to her desk and sat down again, vowing to book a cruise to Antarctica next year. Whale watching. Whales didn't celebrate Christmas, did they?
The phone on her desk rang and she breathed a sigh of relief. Thank goodness.
Stacy snapped into professional mode and reached across the desk, but Kayla stopped her.
"I'll get it. I'm expecting a call from the CEO of Extreme Explore. I'd rather the man wasn't deafened by the sounds of sleigh bells, or jingle bells, or whatever bells are ringing out there, so it would be great if you went back to the party and closed the door behind you. Thanks, Stacy. If anyone asks, you haven't seen me." Waiting until she closed the door, Kayla whimpered and leaned forward, banging her head on the desk. "Christmas. Crappy, miserable, horrible Christmas. Please be over quickly this year otherwise I'm going to need every last shard of ice in Vermont to chill all the alcohol I intend to drink." Pulling in a deep breath she sat up, raked her hair away from her face and picked up the phone. "Oliver?" Afraid he might hear her desperation, she pinned the smile back on her face, thankful it wasn't a video conference. "It's Kayla.. Great to speak to you. How's it going? I read through your business plans for next year. Exciting!"
This, she thought, this she could do.
No Christmas. No Santa. No memories.
Just her job.
If she kept her head down and focused on winning the O'Neil account, it would eventually all be over.
"What the hell kind of nonsense is this?" Eighty years old, but with all the energy of a man half his age, Walter O'Neil thumped his fist on the kitchen table while his grandson Jackson lounged in his chair, biting his tongue and reining in his temper.
Every meeting was the same.
Every battle they fought came back to the same theme.
This was why he hadn't wanted to work with his family. It wasn't a job—it was personal. There was no space to operate. Any hint of a new idea was strangled at birth. He'd built his own successful company from the ground up and now he felt like a teenager helping out in the store on weekends.
"It's called Public Relations, Gramps."
"It's called a waste of money. I wouldn't have done it that way and neither would your father."
The blow landed deep in his gut. Jackson exchanged a swift glance with his brother, but before either of them could respond there was a crash. His grandmother stared in dismay at the shattered remains of the plate.
The puppy whimpered and retreated under the table for safety.
"Grams—" Jackson was on his feet, his own pain forgotten, but his mother was there before him.
"Don't worry, Alice, I always hated that plate anyway. Ugly thing. I'll clear it up."
"I'm not normally clumsy."
"You've been baking all morning. You must be exhausted." She sent a reproachful look at her father-in-law, who glared right back, unrepentant.
"What? Are you saying I can't talk about Michael? Are we all going to pretend this isn't happening? Do we brush his memory under the rug like crumbs?"
Jackson didn't know which was worse—the sight of his usually feisty grandmother so subdued or the shadow in his mother's eyes.
"I need help decorating the gingerbread Santas." She cajoled and soothed, keeping everyone happy while ignoring her glowering father-in-law, and within seconds she had Alice seated at the table in front of a rack of freshly made gingerbread men, various bowls of colored icing laid out in front of her.
Tyler sat at the far end of the table, restless and impatient. "I thought this was going to be a family meeting, not a family row."
"Row?" Alice turned troubled eyes to Elizabeth. "Is it a row?"
"Of course it isn't. People are just having their say."
"Families are supposed to stick together."
"We're together, Alice. That's why it's noisy."
"Happy to reduce the numbers." Tyler half rose to his feet and Jackson shot him a look.
"Sit down. We're not done here."
"I'm done." Always one to reject authority, Tyler's gaze burned into his and then he looked at the set of his brother's jaw and sat. "Remind me why I came home?"
"Because you have a daughter," Walter barked. "And responsibilities. And there comes a point in a man's life when he has to do more than tear up the slopes and chase after women."
"You were the one who taught me to tear up the slopes. You gave me the genes and the skis and you showed me what to do with them."
Jackson wondered how the hell he was supposed to run this place when his "staff" had more baggage than an airport departure lounge.
"We need to stick to business." His tone got him the attention he needed. "Tyler, you're going to help Brenna run the winter activities program." And that was another problem brewing, he thought. He had a feeling Brenna wasn't too pleased to see Tyler back at Snow Crystal, and he was pretty sure he knew the reason.
He waited as his mother added a bowl of white icing to the table and handed his grandmother a knife.
With Alice occupied, Elizabeth O'Neil turned her attention to the broken china on the floor.
Jackson felt as if he were walking over the fragments in bare feet.
"I intend to make this business work but to do that I need to make changes."
His grandfather glowered at him. "It worked just fine when I ran it and when your father ran it."
No it didn't. It was on the tip of his tongue to tell the truth about the state of the business but then he saw his mother's fingers whiten on the broom. Did she know what a mess his father had left behind?
He should have told them straight-out, he thought, not tried to protect them. If he'd done that maybe they wouldn't be fighting him now.
Jackson looked at his grandfather. "I came home to run the business."
"No one asked you to."
Elizabeth O'Neil straightened her shoulders. "I asked him to."
"We don't need him here." Walter thumped his fist on the table. "He should have stayed where he was, running his fancy company and playing the big boss. I could have run this place."
"You're eighty years old, Walter. You should be slowing down, not taking on more. For once, swallow your pride and take the help that's offered." Elizabeth scooped up china fragments. "You should be grateful Jackson came home."
"I'm not grateful! A business is supposed to make money. All he does is spend it."
Jackson sat still, holding back the anger that simmered. "It's called investment."
"It's called wasting money."
"It's my damn money."
"No swearing in my kitchen, Jackson O'Neil."
"Why the fuck not?" Tyler was as restless as a caged beast. Jackson knew his brother hated being trapped indoors only marginally less than he hated authority. All he'd ever wanted to do was ski as fast as was humanly possible, and since the injury that had curtailed his racing career, his mood had been volatile.
"Don't wind your grandfather up, Tyler." His mother tipped broken china into a bag. "I'll make tea."
About to point out that what they needed wasn't tea but teamwork, Jackson remembered his mother always made tea and baked when she was stressed. And she'd been stressed for the past eighteen months. "Tea would be great, Mom."
"If you expect me to sit here I'm going to need something a hell of a lot stronger than tea." Tyler helped himself to another beer from the fridge and tossed one to his brother.
Jackson caught it one-handed. He knew that for all his outward impression of indifference, Tyler hated this situation as much as he did. Hated the fact they might lose this place. Hated the way his grandfather refused to let go of things.
He wondered if he'd been wrong to come home.
And then he saw his grandmother's lined, anxious face and his mother focusing extra hard on icing gingerbread Santas and knew there was no way he could have stayed away.
His grandfather might not want him here, but there was no doubt he was needed.
He watched as his mother bustled around taking comfort in the ritual of caring for people. She placed a plate of freshly baked cinnamon stars in the center of the scrubbed pine table and checked the bread she had baking in the oven.
The smell evoked memories of childhood. The large friendly kitchen had been part of his life forever. Now it was the closest he had to a boardroom and his infuriating, exasperating, interfering, lovable family were his management team. Two octogenarians, a grieving widow, his daredevil brother and an overexcited puppy with training issues.
Beam me up.
His mother placed a steaming mug of tea next to his beer and he felt a twinge of guilt for wishing he were back in his old office with his experienced team around him and only work to take up his attention. That time seemed so long ago. His life had changed. Right now, he wasn't sure it was for the better.
"The changes we've made will make a difference, but we need to tell people about those changes. I'm employing a Public Relations firm and I'll pay for it out of my own pocket." Given the state of the Snow Crystal finances, he didn't have much choice about that. "If I'm wasting money then it will be my money."
His grandfather gave a snort of disapproval. "If you're willing to throw away your own money you're even more foolish than I thought."
"I'm employing an expert."
"You mean an outsider." Walter sniffed. "And maybe you should be talking to your other brother before you make decisions about the family business."
"Sean isn't here."
"Because he has the good sense to leave the running of it to others. I'm just saying he should know what's going on, that's all."
"He'll be home for Christmas. I'll talk to him then." Jackson leaned forward. "I need someone who can get Snow Crystal the attention it deserves. We need to increase occupancy. We need heads on beds."
"Is it about proving yourself? Because you've already done that with your big shot ways, your fancy company and your fancy cars."
Change, Jackson thought. They hated change.
All his grandfather understood was blunt, so he gave him blunt.
"If we leave things the way they are, we'll lose the business."
His grandmother spilled a puddle of icing on the table, his mother turned a shade paler and his grandfather's eyes burned a fierce blue in his tanned, craggy face.
"This place has been in our family for four generations."
"And I'm trying to keep it in the family for the next four."
"By spending a fortune on a fancy New York company that can't even find Vermont on a map? What do they know about our business?"
"Plenty. They have a division that specializes in Travel and Hospitality, and the woman heading it up knows what she's doing. Have you heard of Adventure Travel?" Jackson leaned forward in his chair. "They were going under until Kayla Green took on the account. She had their business mentioned in every key media target."
"Jargon," Walter muttered. "So what is she? A magician?"
"She is a PR specialist. Right at the top of her game. She has media contacts that the rest of us can only dream about."
"She's not the only one with media contacts." Walter O'Neil sniffed to show exactly what he thought of Kayla Green's abilities. "I've been bowling with Max Rogers, editor of the Snow Crystal Post for the past twenty years. If I want a piece in the paper, I ask."
The Snow Crystal Post.
Jackson didn't know whether to laugh or punch a hole through the table.
Wrenching the running of Snow Crystal away from his grandfather was like trying to pull fresh meat from the jaws of a starving lion.
"Local press is great, but what we really need is attention from the national media and international media—' He opened his mouth to add social media but decided not to get started on that one. "PR is more than talking to the press and we need to think bigger than the Snow Crystal Post."
"Bigger isn't always better."
"No, but small can mean bust. We need to expand."
"You make us sound like a factory!"
"Not a factory, a business. A business, Gramps." Jackson rubbed his fingers over his forehead to ease the throb of his tension headache. He was used to walking in and getting the job done. Not anymore. Not with his own family because there were feelings to consider.
He decided that the only thing they'd respond to was hard facts. "It's important you know how things stand at the moment—"
His mother pushed a plate toward him. "Have a gingerbread Santa."
On the verge of revealing just how black the future looked, Jackson found himself staring at a plate of smiling Santas. They wouldn't look so damned cheerful if they knew how precarious their future was.
"Mom—"
"You'll sort it out, Jackson. You'll do what's right. By the way, Walter—" her tone was casual "—did you see the doctor about that pain in your chest? Because I can run you over there today."
Walter scowled. "I pulled a muscle chopping logs. It was nothing."
"He won't listen." Alice stuck a knife into the bowl of icing. "I keep telling him we should slow down during sex, but he ignores me."
"Christ, Grams!" Tyler shifted uncomfortably, and his grandmother looked up from the Santa she was holding, some of the old spark flaring in her eyes.
"Mind your language. And what's wrong with you? You think sex is just for the young? You have sex, Tyler O'Neil. Plenty of it if the rumors are to be believed."
"Yeah, but I don't talk about it with my grandmother—" Tyler levered himself to his feet. "I'm out of here. There's only so much family togetherness I can stand in one day. I'm going to tear up the slopes and chase women."
Knowing Tyler wasn't his problem, Jackson let him go without argument.
He met his mother's gaze and read the message there.
She was warning him to ease up on his grandfather.
The door slammed behind Tyler, and his grandmother flinched. "He was wild as a boy and he's wild as a man."
"He's not wild." Elizabeth poured milk into a pretty spotted jug. "He just hasn't found his place in the world since his injury. He'll adjust, especially now he has Jess home."
It occurred to Jackson that his mother could have been talking about herself. She hadn't found her place in the world since losing his father. That wound was as raw as ever and she was stumbling around like a bird with a broken wing.
Smelling food, the puppy emerged from under the table. She looked up at Jackson hopefully, her entire body wagging along with her tail.
"Maple, sweetheart." Elizabeth scooped her up. "She hates all this shouting."
Walter grunted. "Give her something to eat. I like to see her eat. She was skin and bones when she arrived here."
Jackson closed his eyes. When he opened them again he was still in the kitchen. Still in the middle of this "meeting" where half the occupants of the room were made of gingerbread or had four legs.
"Mom—"
"When you get a minute could you bring down the boxes of decorations for the tree? Alice and I need to sort through them."
Jackson refrained from pointing out he hadn't had a minute since he'd arrived back at Snow Crystal. He'd been buried neck deep in loans, business plans, staff who didn't do their jobs and finances that didn't add up. There were days when he ate standing up and nights when he lay on top of the bed, too tired to undress.
"We're off the subject. You need to learn to keep a meeting on track, Jackson." His grandfather reached for a biscuit. "So what does this woman from New York know about our business? I'll bet she's never even seen a sugar maple tree, let alone a whole damn forest of them."
"I'm not inviting her here to tap the trees, Gramps."
His grandfather gave a grunt. "She's probably never tasted good quality maple syrup. That's how I met your grandmother. She came to buy a bottle of our syrup." He snapped the head off a gingerbread Santa and winked at Alice. "She thought I was so sweet, she never left."
Watching his grandparents exchange loving glances, Jackson decided that not having tasted maple syrup was going to be the least of Kayla Green's problems. "If it will make you feel better I'll give her a bottle, but that's not our main business. It's a hobby."
"Hobby? The O'Neils are famous round here for the quality of our maple syrup—it's something we've been doing in this family for over a hundred years. Tourists come to see what we do here and you call it a hobby?"
"How many tourists?" Jackson ignored the food in front of him. "How many tourists do you think came last year? Because I can tell you it's not enough to keep this place going."
"Then maybe you shouldn't have spent so much developing those fancy cabins and refurbishing the lodge. Did we need a spa? Did we need a pool? Did you need to employ an expensive French chef in the restaurant? Extravagance, all of it." His grandfather was red in the face and Jackson rose to his feet, worry gnawing at his insides. He knew how much they were hurting. He also knew if they didn't face up to what was happening soon, Snow Crystal Resort would be going under.
He wasn't going to let that happen.
"I'm going to do what needs to be done. You're going to have to trust me."
"So now you're an autocrat." But his grandfather's voice shook a little, and Jackson saw something in the old man's eyes that nailed his feet to the floor.
This was the man who had taught him to whittle an arrow from a stick, to dam a stream and catch a fish with his bare hands. This man had picked him out of deep snow when he'd wiped out on his skis and taught him how to check the thickness of the ice on the pond so he didn't fall through.
And this was the man who had lost his son.
Jackson sat back down in the chair. "I'm not an autocrat but I have to make changes. We're operating in a stagnant economy. We have to stand out from the crowd. We have to offer something special."
"Snow Crystal Resort is special."
"It's Snow Crystal Resort and Spa now, and for once we agree on something. It's special."
His grandfather's eyes were suspiciously shiny. "So why change things?"
"Because people don't know about it, Gramps. But they're going to." The puppy nuzzled his ankle, and Jackson leaned down and stroked the dog's soft, springy fur. "I'm flying to New York tomorrow to meet with Kayla Green."
"I still don't get what a girl from Manhattan is going to know about running a resort like ours."
"She's not from Manhattan. She's British."
His mother brightened. "She'll fall in love with the place. I did. From Old England to New England."
Walter frowned. "You've lived here so long I don't think of you as British. Hell, I bet this Kayla woman has never even seen a moose!"
"Does she need to see a moose to get the job done?" But an idea was forming in his head. Not a compromise exactly, but a solution that might work. "If I can persuade Kayla Green to come and experience first-hand exactly what we offer here at Snow Crystal, will you listen to her?"
"That depends. She's not going to see much in a couple of hours, is she?"
Jackson stood up. "She can stay for a week. God knows, we've got enough empty cabins."
"No way is Miss New York or Miss London or wherever the hell she's from, going to want to stay in the wilds with us for a week in the middle of a Vermont winter."
Deep down, Jackson agreed with him but he wasn't about to admit defeat.
"I'll get her here and you'll listen."
"I'll listen if she says something worth listening to."
"Deal." He shrugged on his jacket while his mother looked on anxiously.
"Stay and eat. You've been working so hard I'll bet you haven't gone near the shops."
"He shouldn't have moved out." His grandfather clicked his fingers to attract the attention of the puppy. "He shouldn't have spent all that money converting that crumbling old barn into a fancy place of his own when we have all these empty rooms."
"I've trebled the value of that crumbling old barn." And saved his sanity. Jackson slipped his tablet computer into his bag and thought it might as well have been made of gingerbread for all the use it had been to him. "No food, thanks. I need to put together some figures for the people at Innovation. I'll do my own thing tonight."
"You always do," his grandfather muttered, and Jackson shook his head in exasperation and walked out of the warm, cozy kitchen into the freezing winter air.
His boots crunched through the thick snow and he stopped, breathing in the peace and quiet along with the smell of wood smoke.
Home.
Sometimes suffocating, sometimes comforting. He'd avoided it, he realized. Stayed away longer than he should because at times there had been more suffocation than comfort.
He'd left the place behind at eighteen, fueled by a determination to prove himself. Why stay trapped in Snow Crystal when the whole world was out there beckoning him toward possibilities and opportunities? He'd been caught up in the excitement, the thrill of making something new, something that was his. He'd been riding the wave until that phone call. It had come in the night, like all the worst phone calls and had changed his life forever.
Where would he be now if his father hadn't died? Expanding his business in Europe? On a hot date with a woman?
Raising hell like his brother?
There was a whimper and he looked down to see the puppy by his ankles, snow clinging to her fur and mischief in her eyes.
"You're not supposed to be out here." Jackson stooped and lifted her, feeling the tremble of her body through her springy fur. She was small and delicate, a toy miniature poodle with the heart of a lion. He remembered the day he and Tyler had found her abandoned and half-dead in the forest, a scrap of fur, barely alive. They'd brought her home and coaxed her back to life. "I bet there are days when you wish you hadn't joined our family."
His mother appeared in the doorway, relief on her face as she saw the puppy. "She followed you." She took the puppy from him and gathered her close, stroking and kissing, pouring all her love onto the delighted puppy while Jackson watched, feeling the weight of responsibility pressing down on him.
"Mom—"
"He needs you, Jackson. Sooner or later he'll realize that. Your father made mistakes, but your grandfather can't cope with thinking about that right now. He doesn't need Michael's memory tarnished."
And neither did she. The shadows in her eyes told him that.
Knowing how much she'd loved his father, Jackson felt the tension increase across his shoulders. "I'm trying to get the job done without hurting him."
She hesitated. "You're probably wondering why you came back."
"I'm not wondering that."
Somehow, he had to find a way of making something that was his out of something that was theirs and making his grandfather feel as if the whole thing was his idea.
He had to save what they'd built.
Kayla Green might have worked with some of the toughest and most successful companies in her career, but nothing, nothing, was going to come close to the challenge of dealing with the O'Neil family.
He hoped she liked gingerbread Santas.
CHAPTER TWO
"Angie called from the Washington Post. I told her you'd call her back. And I finished that media list." Stacy leaned across the desk and Kayla was nearly asphyxiated.
"Er—nice perfume." Her hand wrapped around the tall cappuccino she'd picked up on her way into the office. She unwrapped her cashmere scarf and dropped it over her chair, sending snowflakes floating across her desk. "It's freezing out there. If I'd known New York was this cold in winter I would have requested the L.A. office." Snatching a sip of coffee, she toed off the boots she'd worn to walk the short distance from her apartment and dragged her shoes from the drawer in her desk.
Through the glass wall that cut her off from the rest of the fortieth floor, she could see two of the junior account executives discreetly replenishing makeup. "What's going on? Brett will hit the roof if he walks past and sees lip gloss and girl bonding."
"Brett's with Jackson O'Neil. They're waiting for you in the boardroom."
"Jackson O'Neil is the reason for the perfume and the sudden run on cosmetics?"
"The man is smoking hot, Kayla."
Only half listening, Kayla pulled her phone out of her pocket, checking new emails while she pushed her feet into her shoes. "Did you get any more information on him?"
"Yes. He is insanely sexy and—" Stacy blushed "—single."
"I meant on the company."
"I sent everything I found to your in-box this morning, but Kayla he's—"
"Somehow I've managed to amass fifty emails since I left my apartment. How is that possible? I cleared my in-box at 5:00 a.m." Kayla put down her coffee, slid her phone into her bag and scooped up the stack of notes she'd scribbled at three in the morning. "When I saw the snow, I assumed O'Neil would cancel."
"He took an earlier flight because the forecast was bad and he wanted this done. I collected him from the foyer. I managed to behave with dignity and not leap on him."
"That would have given a whole new meaning to the phrase 'full service agency.'" Grinning, Kayla smoothed her hair and took a deep breath. "Go and stick your head under the water cooler."
"Your in-box is the equivalent of a cold shower. By the way, this came for you. It's marked Personal so I didn't open it. I guess it's from someone who doesn't have your home address." Stacy handed her an envelope, and Kayla recognized her stepmother's handwriting.
Cold trickled down her spine. It was like landing naked in a snowdrift.
"Thanks." Stuffing it quickly into her bag, she strode out of her office and took the stairs down to the foyer, wishing she'd left the envelope on her desk instead of putting it in her bag. Now it was there, she couldn't stop thinking about it. It made the bag feel heavy even though it weighed no more than a few flakes of snow.
She stopped in the stairwell, pressed her palm to her ribs and took a few deep breaths.
The only things that should be on her mind right now were Jackson O'Neil and the Snow Crystal Resort and Spa. She shouldn't be thinking about her stepmother, not least because thinking of her stepmother always made her think of her father and then, inevitably, her mother.
She allowed herself a moment to stare through the window at the high-rises of Midtown, reminded herself how hard she'd worked to be standing here now, and then she continued down the stairs and pushed open the doors into the foyer.
The New York offices of Innovation were sleek and stylish, enveloped in floor-to-ceiling glass that offered breathtaking views over the skyscrapers of Manhattan. Usually Kayla found it the perfect working environment, but today chic minimalism had been displaced by festive touches. A huge Christmas tree dominated the foyer and someone had twisted a rope of tiny stars across the top of the boardroom door.
Everyone, from the receptionist right up to Brett himself, was in that smiling, energy-fueled phase that came between Thanksgiving and Christmas.
Maybe she was Scrooge, Kayla thought gloomily, her heels tapping on the polished oak floor as she walked past the receptionist and gave her a discreet wave. Maybe next year she'd book herself a log cabin with a view of a forest and a lake.
Maybe next year she'd arrange for someone to kidnap Santa.
She pushed open the door and Brett rose to his feet.
"Here she is! The star of the show. Kayla, meet Jackson O'Neil. Jackson, this is Kayla Green."
He was standing with his back to her, his eyes on the city spread out in front of him.
In those few seconds, Kayla decided Stacy had exaggerated his appeal. True, that jet-black hair looked promising, and he appeared to be taller and broader than the average businessman she encountered during her working day, but as far as she could see there was nothing else about him that warranted the volume of cosmetics and heavy breathing that was going on up on the fortieth floor.
And then he turned.
With hair that black she'd expected his eyes to be dark, but they were blue. A fierce, intense blue, and Kayla stopped breathing altogether because nothing about this man was average.
There was a hard strength to his features, a toughness that fitted everything she'd read about him in the cold, chill of her early-morning work session. From the bold sweep of his eyebrows to the bump in his nose, he was wholly and unequivocally male.
That heavy-lidded gaze assessed her in a single sweep, and she felt as if someone had kicked her legs out from under her.
She thought about Stacy's suggestion that she ask Santa for Jackson O'Neil naked.
Dear Santa, it's been a long time since you've heard from me, but—
"Miss Green." His voice was deep and strong, and she was recovering from the shock of realizing that for once Stacy's taste in men made perfect sense, when he strode across the room and shook her hand.
The sudden jolt of chemistry unsettled her.
"Good to meet you, Mr. O'Neil."
For a fleeting moment it crossed her mind that this man might even have what it took to make her forget her emails. Then she remembered that the consequence of forgetting her emails was doing a bad job and there was no way she was ever going to let that happen.
"I hope your trip was good?" Kayla chose a seat as far away from those blue eyes as she could reasonably position herself. "I'm excited about this opportunity. Why don't you start by telling us a bit more about how you think we can help, Mr O'Neil."
"Jackson."
"Jackson." It felt too personal. "I've followed the growth of Snowdrift Leisure."
"My focus right now is Snow Crystal, the family business. It was originally run by my father."
And his father had been killed in a car accident in New Zealand. She'd read about it in her research.
She was wondering how to tactfully ask the question that had been nagging her, when he raised an eyebrow.
"You have a question?" He was brutally direct. "It's important to me that this project is successful, so if there's something you need to know then ask."
"I don't want to be insensitive."
His eyes gleamed. "Do I look delicate?"
He looked like a man who could chop down a tree with a swing of his hand. "It would help to understand why you chose to take over the business now and not earlier in your career."
"Have you worked with family?"
"No." A knot tightened in her stomach. "No, I haven't."
"Good decision. A family business is driven by a great deal more than a concern for the bottom line. To describe it as complicated would be to simplify the situation." A wry smile tugged at his mouth, and Kayla found herself looking at the curve of his lips. She was sure Jackson O'Neil would be an exceptionally skilled kisser.
Irritated with herself, she opened her notepad.
Damn Stacy.
"I can imagine it isn't easy to agree on a business strategy when the people involved have an emotional investment. Perhaps you could outline their different responsibilities within the company?"
"I'd describe it as flexible." He leaned back in his chair. "The company structure, if you can call it that, is informal. If anyone has an idea, they speak up, although that doesn't mean anyone is going to listen to them."
But they'd listen to him, she was sure of that. The air of power and authority was unmistakable.
"It sounds charming," Brett said smoothly, and Kayla kept her eyes on her notepad.
It sounded like chaos.
She looked up. "Tell me a bit about Snow Crystal itself."
"The O'Neils have owned the land around Snow Crystal for four generations. My great-grandfather bought it for the sugar maple trees and set up a business producing maple syrup. They did it the old-fashioned way, tapping the trees and collecting the sap in a bucket. My great-grandmother helped. They started selling the syrup and her syrup cookies out of their kitchen. Tourists enjoyed visiting the sugarhouse, so they started offering overnight stays. The business grew from that." He spoke with assurance, his voice deep and compelling as he outlined his family history.
It was a story of a family who had stuck together, a family who had labored to build something. A family with a past and a future.
What did she know about that?
Nothing.
She reminded herself he was buying her expertise, not her pedigree. "I took a look at the log cabins online."
"Building those was the first thing I did when I came back eighteen months ago. They're built from reclaimed wood and have log fires, a hot tub and a view of the forest. If someone wants to escape, this is the place."
"Book me in." Smiling, Kayla scribbled romantic getaway on her pad. "And the rest of the accommodation?"
He talked, describing the resort and the changes he'd made.
She thought about the articles she'd read in the middle of the night when sleep had eluded her. A talented skier, he'd started a company for people like himself. The words used to describe him had included focused, ruthless and visionary, and his success with Snowdrift Leisure suggested they were accurate.
Kayla thought about the image of him plunging into a snow gully on skis.
Distracted by the image in her head, she rose to her feet and paced to the window. "I have a few more questions—what do you see as your main offering, Mr. O'Neil?" Apart from killer blue eyes and a hot sexy body.
"We offer the usual range of winter sports, together with skating on the lake and horse-drawn sleigh rides." He pushed a brochure across the table toward her. "Despite the addition of the spa and the cabins, we're losing money. Our occupancy rate is under forty percent. The only part of the business currently in profit is our restaurant."
"Your strategy with Snowdrift was to target the high end of the market. Your clients were cash rich and time poor so you did everything for them apart from take the vacation yourself." She paused, thinking. "Who do you see as your main target audience? Families? Couples? Lone travelers? Adventure seekers?" Christmas escapees?
The corners of his mouth flickered. "At the moment it's anyone we can drag through the doors, but it's definitely a good place for families. We had fun growing up at Snow Crystal. Now we want to offer that same opportunity to our guests."
"How does your family feel about you bringing in an outside agency to work with you?"
"Unconvinced."
"You're confident you can persuade them to accept our recommendations?"
"It's your job to persuade them. Can you do it?"
"Of course she can. Kayla is the best there is," Brett drawled. "She'll have them eating out of her hand after five minutes. No worries."
"That's good, because eating is something of a family pastime." Jackson's gaze was fixed on Kayla. "I've come to you because you're reputed to be the best. It's essential that you can engage my family in whatever recommendations you make."
"Understood." Kayla sat back down and wrote herself a note on her pad. "It's always important to obtain buy-in from the whole management team."
"It's going to be a challenge."
Brett smiled. "Challenge is Kayla's favourite breakfast dish, along with a side of difficult marinated in the impossible. Isn't that right, Kayla?"
She wished Brett would shut up. "Who do you see as the most important person to influence?"
"My grandfather." He didn't hesitate. "He was born on Snow Crystal, lived and worked there all his life. He'd still like to be the one running the show. He resents the fact that he isn't."
And you resent the fact he won't let you get on with it, Kayla thought.
"So he doesn't leave you to run it yourself?"
"My grandfather lives and breathes the place. You know how it is with family."
Something twisted deep in her gut.
No, she didn't know how it was with family. She had no idea.
Kayla forced a smile. "So you'd like me to fly up there and meet them?"
"I want more than that. In order to persuade my grandfather to entertain the idea of taking on outside help, I've told them you'll spend some time with us. Show that you understand our business."
The fact that he'd done that without checking her schedule confirmed her suspicion that Jackson O'Neil was a man who hadn't often heard the word no.
She kept her smile firmly in place. "That sounds like an excellent suggestion."
"I want you to come for a week."
A week!
Even Brett was shaken out of his customary cool. "Jackson—"
A week?
"You'll spend quality time soaking up all that Snow Crystal has to offer."
It was a test of commitment.
Those blue eyes were deceptive, Kayla thought, and dangerous. On the surface Jackson O'Neil seemed civil and approachable, but he was a man who knew what he wanted and wasn't afraid to go for it. She had a feeling he used those eyes to lull his prey into a stupor before he pounced.
"A week could be difficult."
"But you feast on difficult, isn't that right?" He strangled her objections with the rope provided by Brett. "You'll find a way. Naturally I'll pay for your time."
Kayla could virtually see dollar signs tracking across Brett's eyeballs.
Her boss relaxed. "In that case, no worries."
She resisted the temptation to leap across the desk and squeeze Brett's throat until the words no worries never left his lips again.
She tried to work out how she was going to find a week in her packed schedule when even peeing required forward planning. A day would have put her in a cold sweat, but a week?!
Trying to find a response that didn't include the words, find me a time machine and I'll find you a week, she opened her mouth to attempt to negotiate for an overnight stay in the New Year, and then an idea formed in her brain.
"Did you say those luxury log cabins were secluded?"
"Yes."
"So secluded," she said casually, "that when a person is staying there, they could be the only human being on the planet?"
Blue eyes locked on hers. "The only thing a guest in the cabin will see as they're lying in the hot tub is local wildlife. White-tailed deer, raccoons, moose—the occasional black bear, although they're denning at this time of year so that's unlikely."
"Denning?"
"They're not true hibernators, but they den during the winter months."
Kayla decided that given the choice between an encounter with Santa or a black bear, she'd take the bear. And as for the rest of it—presumably the local wildlife wouldn't be banging on her door expecting her to celebrate Christmas. "You mentioned a log fire—"
"The cabins are luxurious."
She tilted her head to one side, mesmerized by the image in her head. Her mood lifted and this time her smile was genuine. "I agree it's important that I experience everything Snow Crystal has to offer. A week sounds reasonable. If there is a cabin free over the holidays, I'll come."
"The holidays?" Dark brows rose. "You mean Christmas?"
"If I'm going to feast on difficult—" she flashed a smile at Brett "—I like it served with cranberry sauce. Your grandfather needs evidence of my dedication…hopefully this will suffice. What better time for me to gain a feel for the charms of Snow Crystal? It will put me in a unique position to develop an integrated marketing plan that will make you stand out from the crowd." And it would also put her in a unique position to avoid the one time of year she hated more than any other.
Thank you, God.
A secluded log cabin and a business run by a family who would resent her presence at this time of year and undoubtedly leave her alone.
Perfect. Or it would be, if Jackson O'Neil would stop looking at her.
It was unsettling, and not just because he was spectacularly good-looking. Thick, dark lashes shielded eyes that saw far too much.
"Don't you have plans for the holidays?"
Yes. Her plan was to avoid the whole thing. To find a way of spending the holidays in a Santa-free zone. She was following the example of the black bear, which was clearly a highly evolved species.
"My plans, Mr. O'Neil, are to make sure that by this time next year you have a waiting list for cancellations and that the resort of choice for winter fun and relaxation is Snow Crystal. Together, we are going to drive your brand to the top. Perhaps you'd be kind enough to reserve me the most remote cabin you have available. It will be easier to focus if I'm far away from other guests." Oh for goodness sake, he was still looking at her. "Of course if you'd rather wait until the New Year—"
"Tell me a bit about yourself."
"Me?" The question took her by surprise. "I read English at Oxford and then—"
"Not your academic background. Tell me something about you."
"Oh. I've worked for Innovation since—"
"Something personal."
It was Kayla's turn to stare. "Personal?"
"What do you do when you're not working?"
Kayla froze. No one had ever asked her that. Usually the questions were about forecasts, strategy, circulation figures—no one had ever asked her what she did when she wasn't working. "I—"
"It's a simple question, Miss Green."
No, it wasn't a bloody simple question. She decided to treat it like one of those interview questions where they asked your weaknesses and you gave them something they wouldn't see as a weakness, such as I work too hard.
"I work too hard." She gave an apologetic smile. "That doesn't leave much free time. Right now my focus is my career. I'd rather be working than doing anything else."
She'd especially rather be doing that than celebrating Christmas.
"Your family won't object if you work over the holidays?"
Why was the guy asking about her family? He wanted to buy her skills, not adopt her. No client had ever asked her a question about family. All they cared about was hearing what she could do for their business. No one had ever been remotely interested in the person behind the machine.
Her smile frozen to her face in a bizarre rictus, Kayla hunted for a response that was neither rude nor a lie. "They won't object. We're all busy people." Terrified that he might see through that neutral statement, she snapped her gaze from his and closed her notepad. "I will spend the week living and breathing Snow Crystal, write up my recommendations with input from the team back here and then we'll start work in the New Year. Brett?" She glanced at him for support, knowing Brett was too hungry for the business to care if she drove a snowplow through her own vacation.
"Sounds good. I'll even provide the eggnog."
For once relieved that her boss was living up to his reputation for forgetting the people who worked for him had a personal life, Kayla relaxed. "Make it Tequila and I'll put you back on my Christmas card list."
"Done. And you can put a pair of snow boots on expenses."
"You're all heart, boss."
"No worries."
Across the table, Jackson O'Neil was still watching her. Beneath the well-cut suit he exuded a raw sexuality that made it almost impossible for a woman to look away.
"Would you describe yourself as an outdoor girl, Kayla?"
Not in a million years. "I don't spend anywhere near as much time outdoors as I would like—" she adopted a regretful tone "—so I'm looking forward to rectifying that. And I love snow. Love it." Maybe she should have said that once. Maybe twice was overdoing it.
"That's good to hear." That hypnotic blue gaze didn't shift from hers. "So you ski?"
Remembering the picture of him plunging into a deep, snow-filled gully, Kayla decided it was safer not to lie about that. "Not exactly, but I've always wanted to, so this will be the perfect opportunity. I can't wait, although I think my preference will probably be for—er—flat slopes."
Dark brows rose. "Flat slopes?"
"Nothing too—" she tilted her hand to demonstrate a steep gradient "—terrifying."
"Right." He rubbed his hand over his jaw, and she had a feeling he was smiling. "Flat slopes. I admire your dedication." He rose to his feet, lithe and athletic. One glance at his powerful thighs told her that this man didn't expect his slopes to be flat.
She hoped he still admired her dedication when she was lying prostrate at his feet.
Belatedly, Kayla realized that spending a week at Snow Crystal meant spending a week in the close company of Jackson O'Neil, a man whose idea of fun was to jump off cliffs and land on a near-vertical slope.
Maybe she should have been more honest about her lack of experience.
Maybe she should book herself a hospital bed right now.
Gathering up her notes, she produced her most reassuring corporate smile and walked round to his side of the table. "Here at Innovation we're always willing to go that extra mile for a client." Preferably not downhill on skis, but if that was the only way then so be it. "Fast paced and focused. That's what we do." She stuck out her hand and then wished she hadn't, as strong, male fingers closed over hers.
She tried not to wince.
The guy was strong enough to kill a moose with his bare hands. And even though she was wearing her favorite confidence-inducing killer heels, he was taller. His hair was dark and gleamed under the harsh lighting of the boardroom. It should have been unforgiving, but it simply served to spotlight his spectacular good looks.
"Let me know when your flight gets in and I'll pick you up from the airport." He released her hand. "We'll do what we can to make the holidays special for you. It will give you a chance to try a variety of winter sports seeing as you—er—love snow so much." The glitter in his eyes told her he'd guessed that her only contact with snow up until now had been to stare at it through the office window and brush it off her coat.
She told herself it didn't matter.
"Secluded cabin, log fire, views of a frozen lake—" No Santa, no store window displays or canned Christmas music and most of all, no memories. "It doesn't get any more perfect than that. Have a safe trip home."
The woman had obviously never been near real snow in her life.
Hiding a smile, Jackson snapped his bag shut and watched as she walked briskly away from him, those incredible legs accentuated by heels so high she almost needed to breathe additional oxygen. Her hair was smooth and silky and brushed her shoulders in a perfectly tamed curtain of pale gold. He was willing to bet Kayla Green had never had a bad hair day in her life. Everything about her was ruthlessly polished and controlled. He wondered idly what would happen to that hair after she'd spent a day in the mountains.
He wondered who she was under the gloss.
"I didn't expect her to be able to come over the holidays." He hadn't expected the chemistry either, but he let that pass. He had enough complications in his life without adding more. "There can't be many people her age who would choose to spend Christmas in an isolated cabin, however luxurious."
"That's Kayla. If she's on a project then she's on it a hundred and fifty percent. She's brilliant and she has the best media contacts in the business. It's the reason I poached her from the London office. The girl is a tiger."
He was banking on it. He needed someone besides him who would take the business seriously. But still—
"She didn't have plans to return home for Christmas?"
Clearly that possibility hadn't occurred to Brett, who shrugged. "If she did, she'll cancel. Snow Crystal is our top priority, and she's the woman to make it happen."
They walked together through to the foyer and Jackson paused, ignoring the long, speculative look the pretty receptionist sent in his direction.
"Does she never relax?"
"I'm not paying her to relax." Brett produced a smile in response to Jackson's raised eyebrow. "Sure, she relaxes. When she's asleep. That's the only time any of us relaxes. Drives my wife crazy. But Kayla's adaptable, and she'll do anything for her clients. If you need her to ski, she'll ski. Wrestle a bear—she'll wrestle a bear. No worries."
Jackson didn't reply. He was willing to bet if Kayla Green saw a bear they'd hear the screams back in New York.
For the past eighteen months, he'd thought of nothing but Snow Crystal, but suddenly all he could think of was joining Kayla in the secluded log cabin away from the outside world. His mind, starved of other outlets for creativity, used its creative talents to imagine her naked in the hot tub, cheeks pink, that smooth blond hair curling in the steam.
Damn.
Thanks to the influence of his family, he was taking unprofessional to a whole new level.