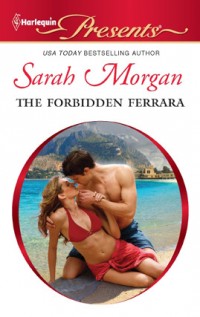 May 18, 2012

May 22, 2012
The Forbidden Ferrara
Ferrara Book #2
RT Book Reviews Reviewer's Choice Award 2012
A Ferrara should never share a bed with a Baracchi — however high the stakes!

Dark-hearted Santino Ferrara has always remembered how long-legged, hot-tempered Fia Baracchi felt in his arms — much to his frustration. Then a million-dollar business deal throws them together, and keeping his distance is no longer an option.

But Fia is living a lie. If it's ever discovered that her precious little son is Santino's heir, she'll be disowned — their families' feud is legendary! But her real fear? That she can't forget the scorching memories of her one night with the enemy — and that she still craves more….
Read an Excerpt
Buy in the UK
Buy in the US
Reviews
"Morgan is a magician with words, and she thrillingly transports readers to picturesque Sicily, where she spins a modern-day fairy tale of grudges, feuds and forbidden passion. And her love scenes should come with the warning: 'Reading may cause hot flashes.'" 4 1/2 stars, RT Book Reviews
Excerpt
There was a shocked silence round the boardroom table.
Amused by the reaction, Santo Ferrara sat back in his chair. 'I'm sure you'll all agree it's an exciting project,' he drawled. 'Thank you for your attention.'
'You've lost your mind.' It was his older brother who finally broke the silence. Cristiano, who had recently relinquished some of his responsibility in the company to spend more time with his young family. 'It can't be done.'
'Because you didn't succeed? Don't beat yourself up. It's fairly common for a man to lose his edge when he's distracted by a wife and kids.' Santo loaded his tone with sympathy, enjoying the brief interlude in what had been a long, punishing few weeks. And if he felt a slight twinge of envy that his brother had gone on to be as successful in his personal life as he was in business then he told himself that it was just a matter of time before he found the same thing himself. 'It's like seeing a great warrior fallen. Don't blame yourself. Living with three women can soften a man.'
The rest of the Board exchanged nervous glances but wisely chose to remain silent.
Cristiano's gaze locked on his. 'I am still chairman of this company.'
'Precisely. You've taken a back seat while you change nappies. Now leave the good ideas to the rest of us.' He was being deliberately combative and Cristiano gave a reluctant laugh.
'I'm not denying that your proposal is exciting. I can see the business potential in adapting the hotel to accommodate a wider range of sports and appeal to a younger demographic. I even agree that expanding on the West coast of Sicily has potential for a certain type of discerning traveller–' he paused and when he looked at Santo his eyes were deadly serious '–but the success of the project rests on you gaining the extra land from the Baracchi family and old man Baracchi would shoot you through the head before he sold to you.'
Good-natured banter gave way to tension. Those around the table kept their eyes down, everyone well aware of the history between the two families. The whole of Sicily knew the history.
'That is my problem to deal with,' Santo said in a cool tone and Cristiano made an impatient sound as he pushed back his chair and paced over to the expanse of glass that overlooked the glittering Mediterranean sea.
'Since you took over day-to-day running of the company you have more than proved yourself. You have done things I hadn't even thought of doing.' He turned. 'But you will not be able to do this. You will simply inflame a situation that has been simmering for almost three generations. You should let it die.'
'I am going to turn the Ferrara Beach Club into our most successful hotel.'
'You will fail.'
Santo smiled. 'Shall we bet on that?'
For once his brother didn't return the smile or take up the challenge. 'This goes deeper than sibling rivalry. You cannot do this.'
'enough time has passed for us to put grievances aside.' 'That,' Cristiano said slowly, 'depends on the grievance.'
Santo felt the anger start to heat inside him but alongside the anger were darker, murkier emotions that sprang to life whenever the Baracchi name was mentioned. It was a visceral reaction, a conditioned response reinforced by a lifetime of animosity between the families. 'I was not responsible for what happened to Baracchi's grandson. You know the truth.'
'This is not about truth or reason, but about passion and prejudice. Deep-rooted prejudice. I have already approached him. Made him several more than generous offers. Baracchi would see his family starve before he sells his land to a Ferrara….