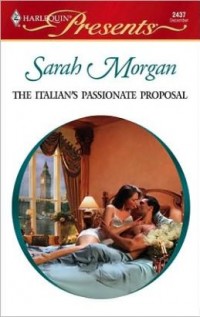 December 5, 2003

December 1, 2004
The Italian's Passionate Proposal
What lies behind the Italian doctor's passion?
Dark, handsome and impossibly wealthy surgeon Carlo Santini can have any woman he wants. But working alongside nurse Suzannah Wilde at St. Catherine's hospital, it's hard for him to deny the sexual attraction simmering between them!
Zan knows Carlo is holding something back from her, but all the same invites him to spend the festive season with her; only to discover that the caring baby doctor by day is a passionate, demanding lover by night….
International Doctors — they're guarenteed to raise your pulse!
Buy in the UK
Buy in the US
Reviews
"....a superb Medical romance featuring a totally endearing heroine, a gorgeous Italian hero and plenty of passion, romance and drama to keep her many readers gleefully turning the pages late into the night. You can never go wrong with a romance by Sarah Morgan and readers will lap up in a single sitting this fast-paced, emotional and exciting romantic tale!" - CataRomance.com
Also published in the US as
A Proposal To Remember