Behind the Series – O'neil
Last Christmas my family and I decided to break with our usual holiday tradition. Instead of staying at home, we rented a log cabin in a forest near a lake. We spent our days crunching through fresh snow and our evenings curled up by a blazing log fire.
We took Christmas with us on that holiday (yes, even the turkey and don't ever ask me about the tree…) but it occurred to me that it would be the perfect place to go if someone wanted to escape all the festivities. That thought played on my mind and it was while I was curled up by the flickering fire watching big fat snowflakes drift past the window and trying to thaw my numb toes, that I came up with the idea for Sleigh Bells in the Snow.
My heroine Kayla hates Christmas and plans to avoid it altogether, so when she's asked to spend a week in a log cabin in snowy, beautiful Vermont as part of her job she couldn't be happier. Jackson O'Neil is trying to save the family business, Snow Crystal Resort, and thinks public relations expert Kayla is the woman to help him.
She arrives at Snow Crystal expecting to escape Christmas, only to find herself sucked deep into the very thing she is trying to avoid. Family. And as if that isn't bad enough, Kayla discovers tough, sexy Jackson doesn't fit any of the traditional business stereotypes. Soon she's chopping logs with Grandpa, baking with Grandma and trying not to fall in love.
I fell in love with the whole O'Neil family as I wrote this book, not just Jackson but also his brothers, Sean and Tyler. Look out for their stories, which will be published next year.
Sarah
xx
One of the O'Neil family's favourite festive recipes!
Cinnamon Stars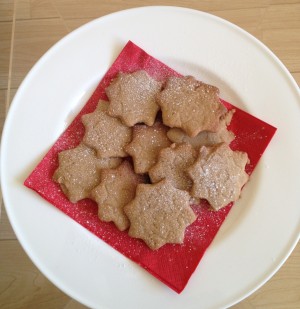 225g plain flour (2 cups)
175g soft brown sugar (3/4 cup)
1 egg (beaten)
1 level teaspoon ground ginger
1 level teaspoon ground cinnamon (more if you prefer!)
100g butter (1 stick/half a cup)
Mix the spices with the flour and sift into a bowl (try not to miss the bowl and sift it over the dog as Kayla does in my book).
If making by hand, rub in butter then add sugar and egg and knead into it forms a ball of biscuit dough. (If using food processor just put all the ingredients together and blend, adding the egg last).
Place dough in fridge (I put it into a freezer bag) to chill for 20 mins.
Remove from fridge, sprinkle flour and roll dough quite thinly and cut into shapes.
Arrange on lightly greased baking trays.
Cook for 15 mins in pre-heated oven (190 C, 375 F, Gas 5).
Place on cooling rack (nowhere near dog or anyone with surname O'Neil!).
Eat.
Eat more.
Vermont Photo Gallery
Click on a thumbnail to view the full size image
Maple jumping for joy