My brand new novel, One More for Christmas, is out in paperback in the UK today!
I've written a Christmas book every year since I was first published (20 years!) and this is one of my favourites. Successful career woman Gayle is estranged from her two adult daughters, but an accident in the office leaves her questioning the choices she made in her life and she decides Christmas is the perfect time to heal the rift. Her daughters are less enthusiastic! There have been big changes in their lives since they last saw their mother, and they're terrified she will spoil Christmas. It's a fun, festive, family story with twists and turns, romance and a glorious Scottish setting. I hope you're going to love it.
You should be able to find the paperback in all the usual places, but if you prefer to order online right now you'll find links below.
Buy in the UK
PRINT:
EBOOK:
---
US readers have had this book for a few weeks now. You can still find it instore and online via the handy links below.
Buy in the US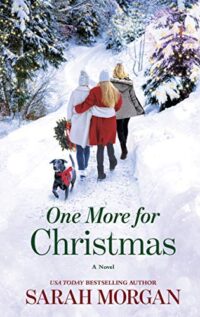 PRINT:
EBOOK:
---
Stay safe and happy reading. And if you feel like joining me on social media, I'd love to see you there.