UK pre-order competition for ONE MORE FOR CHRISTMAS
To celebrate the upcoming publication of my brand new Christmas novel ONE MORE FOR CHRISTMAS (out Oct 29th in the UK!), my publisher is giving readers the chance to win a £250 M&S giftcard so you can fill your Christmas Dinner table with luxurious treats!
To enter, simply pre-order your copy of One More for Christmas from any retailer and make a note of your confirmation number – if you've already pre-ordered (thank you!) that's fine. You can still enter. Full details and entry form here
https://www.hqstories.co.uk/…/win-a-250-ms-giftcard-with-s…/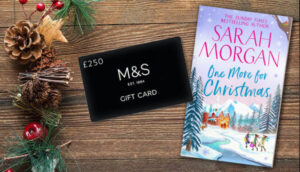 Good luck!
Love
Sarah
xx